Sanford Weiss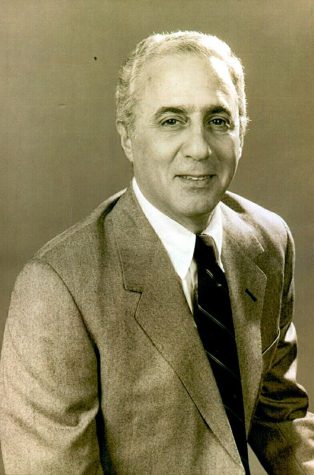 Sanford Weiss was born July 21, 1932, in St. Louis, Missouri.  Raised in Clayton then Richmond Heights, Sanford attended St. Louis Country Day School, where he excelled in football and track. At Princeton, he studied psychology, and published the first research paper on fingernail biting, in 1954.  Sanford went on to business school at Northwestern University, then enlisted in the military.
Returning to St. Louis to learn the family business, he married the love of his life, Ellen Coppersmith, in 1960.
By 1970, Sanford and his younger brother Richard were running the family business, Weiss-Neuman Shoe Company, and later added Gucci franchise stores to their portfolio. Richard died tragically at age 57 in 1995. Sanford remained President of Weiss-Neuman until it was sold and he retired, in 1997.
Sanford served as President of the board of the St. Louis Jewish Light, and other boards including St. Louis Country Day School, The NCCJ, United Hebrew Temple and Westwood Country Club.  He was also an active member of YPO for many years.
Sanford loved horses, snow skiing, golf, a good book about politics or history, and a being with his family and friends. He and Ellen spent time at their home base at Westwood Country Club, and homes in Breckenridge, Colorado and Admiral's Cove in Jupiter, Florida.  They loved visits from grandkids, family, and friends, which often included golf, hikes, golf ball hunts, and reservations for a nice dinner.
He remained close with lifelong friends from Country Day, Princeton, and Westwood. Sanford also made new friends everywhere, possessing a soothing, friendly personality, always interested in a good conversation, and the opinions of others.
Sanford developed dementia in his mid-80s.  While living at Dolan Memory Care home, he loved visits from family and friends, always well-dressed, still asking if there were reservations for dinner.
In addition to his wife and two sons, Stephen (Jenny Weimann) and David (Bobby Sanderson) Sanford is survived by four grandchildren, Mackenzie, Shelby, Madison and Jonathan Weiss.
Donations may be made to the Alzheimer's Association, the St. Louis Jewish Light, MICDS, or the charity of your choice
Visitation Thursday, May 12th, 2:00 PM at Congregation Temple Israel, #1 Rabbi Alvan D. Rubin Drive (Ladue at Spoede Roads), 63141 followed by funeral service at 2:30 PM. Private family interment. Please visit bergermemorialchapel.com for more information.
BERGER MEMORIAL SERVICE