Sanford Neuman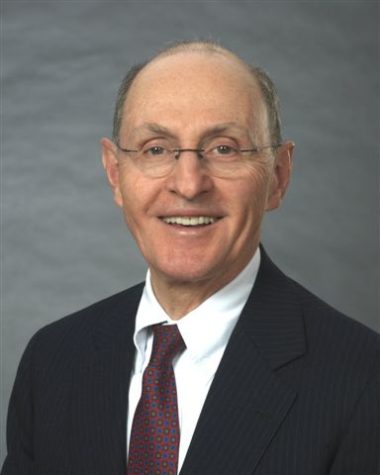 For 87 years, when people would look up the definition of mensch in the dictionary, they would have read about Sanford Neuman. His fulfillment of that role ended on April 17, 2023 when he died surrounded by his family.
Whether he was known as San, Sandy, Sanford or Mr. Neuman, he treated everyone he met with dignity, respect and equanimity. San was born in Granite City, Illinois to Harry and Mary (Weinstein) Neuman. He was proud of his roots and loved to recount the experience of being a part of a small, tight-knit Jewish community.
San graduated from Washington University undergrad and Wash U law school. It was in law school that he re-met and courted the lovely Rosalind Farris who became his wife of 58 years until her passing in 2018. Together, they were a power couple who supported each other's career ambitions, sense of community service, love of tennis and cycling, and dedication to their family. All four of their children consider themselves the luckiest people to have been born into their union.
San loved the practice of law and, based on how many of his clients became lifelong friends, it is safe to say the law loved him back. In 1976 San, along with nine others, founded the Gallop, Johnson & Neuman law firm. The firm thrived for 36 years before dissolving in 2012. At that time, he joined the Polsinelli law firm and was a partner there until his retirement in 2016.
He carried a love of Judaism throughout his life. He embodied the spirit of tikkun olam (repair the world) through his extensive service to St. Louis' Jewish community. He served on the board of several organizations, including the St. Louis Symphony Orchestra, Jewish Community Center, the Psychoanalytic Institute and Jewish Federation, where he also served as president. He was devoted to Washington University School of Law from which he received a distinguished alumni award.
A single obituary cannot do justice to the kind, funny, smart, endlessly patient and affable person San was. He is survived (with great grief in their hearts) by his devoted sister, Faye (Earl) Newman and his children: Jeff, Bennett (Rick Cohn), Larry (Qing Hou) and Shula, and his grandchildren, Julian, Gabriel and Maurice.
Funeral service Wednesday, April 19th, 11:00 AM at BERGER MEMORIAL CHAPEL, 9430 Olive Blvd, followed by interment at Beth Hamedrosh Hagodol Cemetery. No visitation prior to service. Please visit bergermemorialchapel.com for more information. Donations can be made in his name to the Jewish Federation of St. Louis or to Memory Care Home Solutions.