Rosellen "Rosie" Feinstein
Published November 13, 2022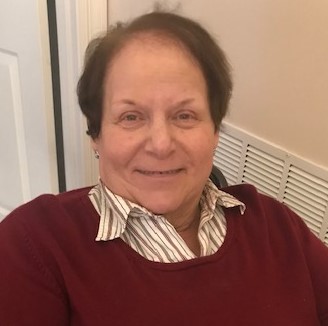 Rosellen "Rosie" Feinstein, December 3, 1947 – November 11, 2022
Beloved wife of Mark J. Feinstein for 55 years.  Dear mother of Eric (Vickie) Feinstein and Michael (Erin) Feinstein.  Loving grandmother of David, Abigail, Shaina, Jonah and Morgan Feinstein.  Beloved sister and sister-in-law of Betti Blumoff, Marianne (Owen) Christiansen, Eileen (David) Evans and the late Harvey (Marilyn) Blumoff.  Cherished aunt of Todd (Kara) Blumoff, Neal (Beth) DuBro, Brian (Sunny Beddow) Christiansen, Becky (Rick) Griffin, Emily (Victor) Menchaca and Lauren DuBro.  Beloved daughter of the late David and DeVera Blumoff.  Dear cousin and friend.
Rosie was an avid reader, reading over 150 books a year.  She looked forward to playing Mahjong with her friends each week, and she loved to travel, taking trips throughout the US, Canada and Europe.
Rosie had a long professional career, starting as a civilian working for the U.S. Navy.  She then spent 27 years in the education field teaching computer classes for Lucky Lane and working as a para-professional in the Ladue School District.  Her final job was as a supervisor for the State of Missouri Department of Social Services.
After having her right leg amputated, Rosie spent the next ten years assisting other amputee patients in understanding the lifestyle changes involved with losing a limb.  Her efforts in helping others earned her the Amputee Empowerment Partners Award for "Volunteer of the 2013 Year."
Graveside service Monday, November 14, 2022, 1:30pm at United Hebrew Cemetery, 7855 Canton Avenue.  Live stream available at www.rindskopfroth.com.  In lieu of flowers, contributions in Rosie's memory may be made to Evelyn's House, The BJC Foundation for Hospice, P.O. Box 790369, St. Louis, MO, 63179 or to the Leukemia and Lymphoma Society, 1972 Innerbelt Business Center Drive, St. Louis, MO, 63114 or to the charity of your choice.  Out of concern for everyone's health and safety, the family will be holding a private Shiva.
A RINDSKOPF-ROTH SERVICE