Ronald L. Heller
Published October 23, 2022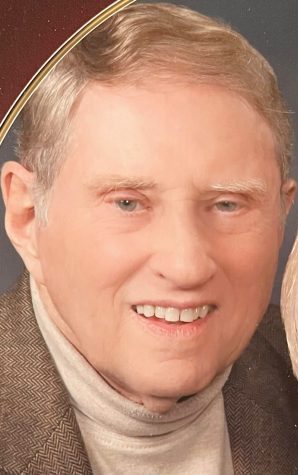 Ronald L. Heller, October 10, 2022
Beloved husband of Geraldine Heller for 69 years; dear father and father-in-law of Denise Heller and Mark (Suzi) Heller; dear grandfather of Ethan and Eliana Heller; dear brother of the late Melvin (late Dolores); dear brother-in-law of Elaine (late Charles) Ginsberg and Phyllis (Steve) Bender; dear uncle, cousin and friend.
Ron epitomized the word "mensch." Through his creativity, compassion, commitment and drive to convert ideas into results, thousands of people are recipients and beneficiaries of the many programs he created.
By becoming an active member and leader in Toastmasters International, including stints as Lt. Governor and President of the Missouri chapter, he learned how to define problems and needs, develop practical solutions and work with people to build consensus. For instance, he started the Toastmasters program in the Missouri State Penitentiary and received recognition by Governor Warren Hearnes.
As an early board member of the Jewish Foundation for Retarded Children, then changed to Life Skills and now merged with Easter Seals, he located the building used for conducting workshops to assist young adults with developmental disabilities. He subsequently located the property and was able to convince University City to approve the 1st residential home for habitation, learning and development of Life skills clientele.
In 2003 while planting trees in Israel with his wife Gerry to support the JNF, they were inspired to start a program that they named Plant a Tree of Life. This program memorialized the passing of B'nai Amoona members by planting a tree in Israel. This expanded to include simchas and other honors.
When his father passed and he began attending B'nai Amoona services he realized it was difficult to ensure a minyan daily. The Minyanaires program was an idea he conceived and implemented to address this critical need. The program has expanded, is stronger than ever and replicated at many congregations across the country.
Another need that surfaced while visiting his father and others at Delmar Gardens West was the absence of a Jewish Friday night service. He organized a group of volunteers and trained them on conducting the service which remains in force today.
Upon his retirement as a real estate broker (Heller Realty) he worked in the Chaplain's office as a volunteer at Missouri Baptist Hospital and created a program to visit mostly Jewish patients 3 full days a week. Because of the success of the program, there was a request to have someone speak to patients 5 days a week. He organized and expanded a team to 5 people that would be able to accommodate this need on a daily basis.
Ron was musically gifted, a fine pianist taught by the best in St.  Louis. He loved sports and had season tickets over the years to all the STL major league teams. As an advent sports fan he volunteered as a coach and then team manager for his son's Khoury League baseball team for 8 years; winning many awards
As evidenced above, Ron thought of others before himself. He was selfless, humble and loved his family fiercely. He never wanted credit and it was the family's wish to ensure others knew of his contributions that will remain for generations to come. He was a devoted husband, son, brother, father, uncle and cousin.
The Funeral Service was held Sunday, October 16, at B'nai Amoona Congregation, 324 S. Mason Rd. 63141. Interment followed at Chesed Shel Emeth Cemetery, 650 White Rd. 63017. Memorial contributions preferred to B'nai Amoona Congregation, Alzheimer's Association or a charity of your choice.
Visit www.bergermemorialchapel.com for more information.
BERGER MEMORIAL SERVICE