Robert Simon Mendelsohn, M.D.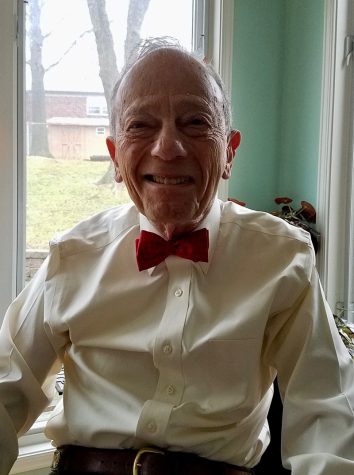 Robert Simon Mendelsohn, MD, 94, passed away on April 28, 2022 after an exceptionally accomplished and rich life. 
Born in 1928 in Cincinnati, he grew up in a tight-knit, loving family alongside three brothers and four cousins, Mendelsohn and Schwab family members who survived the Depression together through mutual support. He remained closely connected to his large family throughout his life. Challenged by polio as a teenager, he was nonetheless physically active and athletic, as well as an excellent student. He graduated Phi Beta Kappa in 1950 from Washington and Lee University, after which he attended Washington University School of Medicine on a full scholarship; there he was elected to the Alpha Omega Alpha society, honoring those who showed distinction in academics and leadership.
After completing his medical degree in 1954, he interned at Barnes Hospital, spent two years at the NIH in hematology research and then returned to St. Louis for a storied career in clinical academic medicine and private practice at Washington University School of Medicine, Jewish Hospital, and Barnes Hospital. Robert was also beloved by his many patients for an extraordinary capacity to diagnose and his warm, caring manner. He lived by and epitomized the approach described in the famous phrase of Francis W. Peabody, MD, "for the secret of the care of the patient is in caring for the patient." For more than 70 years, he attended and actively participated in the Department of Medicine's Grand Rounds. His love of his patients and teaching was recognized by creation of the annual Robert S. Mendelsohn lectureship, which his four children and extended family established in 2018 with the support of the Department and many former patients and colleagues.
An avid reader of American history, Robert widened his interest to literature on retirement, eventually making his way through James Joyce's Ulysses, for which he co-taught a course at the Washington University Osher Lifelong Learning Institute. He also loved to fly-fish, including in the Grand Tetons area of Wyoming and repeatedly in Rockbridge, Missouri with his wife of 35 years, Susan. He was an avid golfer as well, and was passionate about Shakespeare, gardening and tending roses, classical music, and the St. Louis Cardinals. Robert was first married for nearly 25 years to Ruth Rosen, with whom he raised Michael, James, Nancy, and Thomas Mendelsohn.
He is survived by his wife, Susan Kenny Mendelsohn; his children, Michael (Vivienne) Mendelsohn, James Mendelsohn, Nancy (Jay Horvath) Mendelsohn, and Tom (Julia Gittleman) Mendelsohn; his stepchildren Melissa (Matt) Sauter and Cynthia (Bill) Berne; by eleven grandchildren, Erika, Elizabeth, Daniel, Maggie, Nathan, Rose, Sam, Brent, Mary Jane, Nikki, and Eric; and by his three great-grandchildren, Mo, Adalynn, and Barrett.
Memorial contributions preferred to The Ted Delaney '85 Scholarship Endowment www.wlu.edu/give/, Missouri Botanical Garden www.missouribotanicalgarden.org/donate.aspx, St. Louis Symphony https://secure.donationpay.org/slso/ and Action St. Louis https://actionstl.org/donate.
For more information and to view the livestream of the Memorial Service visit www.bergermemorialchapel.com.
BERGER MEMORIAL SERVICE