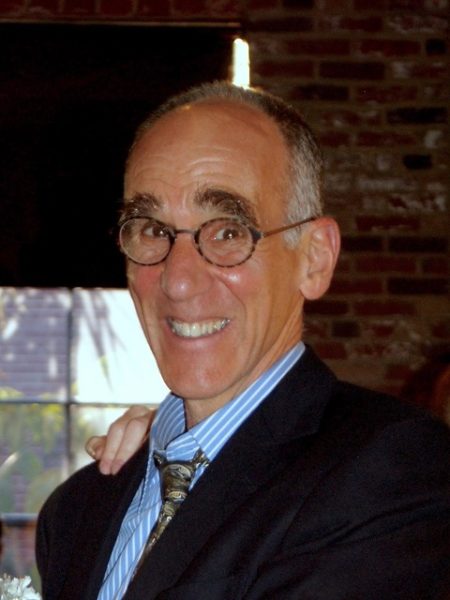 Richard Sandler, 68, passed away peacefully at home on August 30th. He was born in Detroit to Solomon and Beatrice Sandler and is survived by his spouse, Beth Solowey, children Leah (Molly) Sandler, Rachel (David) Baer, Simon Sandler, grandson Jacob Baer, brothers Steve (Roberta) Sandler and Bob Sandler, beloved nieces and nephews, and his father-in law Alex Solowey. He was predeceased by brother Gary Sandler.
Rick received his Bachelor's of Arts from Wayne State University and his Masters and PhD in Folklore and Mythology from University of Pennsylvania. Richard taught English at John Burroughs School for 29 years. In addition to his classroom teaching, Richard co-founded Aim High St. Louis in 1991, a summer school program for St. Louis inner city middle school students. He also spent several weeks during the summers helping in Cambodian classrooms.
Rick cut a recognizable figure with his unique gait and bushy eyebrows. He loved bike riding and walking and was often spotted on the roads running errands or going to and from Burroughs. Richard was an intrepid traveler, from the Scottish Highlands to China and many countries in Southeast Asia. Rick spent many hours volunteering at the International Institute helping immigrants navigate their new lives and assisting in citizenship study. He was an avid tea drinker (teaching several classes on "real" tea), and had great fondness for Canada and all things Canadian.
Above all, Richard was happiest when with his family. He was a dedicated husband and father and took true pleasure in these roles.
A graveside funeral will be held at Beth Hamedrosh Hagodol Cemetery and the family will be sitting Shiva at home. Please contact Rindskopf-Roth Funeral Chapel for details. In lieu of flowers, we suggest donations please be sent to Save the Children and Beyond Housing St. Louis.
A RINDSKOPF-ROTH SERVICE