Phyllis Sunshine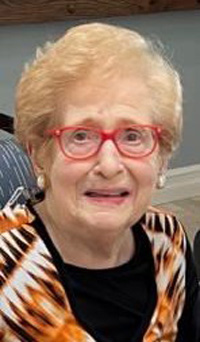 Phyllis Sunshine, May 16, 2022
Phyllis Lefton Sunshine was born to Dorothy and Joseph Lefton on January 29, 1934 in St. Louis, MO. She was the beloved wife of the late Dr. Herbert Sunshine; dear mother and mother in law of Debbie (Abe Cherrick) Sunshine, Judith (Neil) Weintraub, Naomi (Eddie) Weiss, Joshua (Elizabeth) Sunshine; dear grandmother of Danielle (Dave Bender) Cherrick, Lauren (Mike) Kashtan, Efram Cherrick, Jake (Naomi) Weintraub, Deena (Avi) Stein, Miriam (Yaakov) Pollak, Ben (Blimah) Weintraub, Tsippy (Gedali) Goldstein, Deena (Eliot) Graham, Yitzy (Nicole) Weiss, Naftali Weiss, Ahuva Sunshine, Yoni Sunshine, Aryeh (Yocheved) Sunshine; dear great grandmother of 23 great grandchildren from ages 6 months to 21; dear sister of the late Jerome L.T. Lefton (Harriet), Charles (Lois) Lefton; dear aunt, cousin and friend to many.
Phyllis attended Soldan High School and graduated from Washington University School of Occupational Therapy. Twenty years later, she received her masters degree in Vocational Counseling from St. Louis University. She was married to her beloved husband, the late Dr. Herbert Sunshine for 64 years. She was a member of Nusach Ha'ari Bnei Zion, Young Israel of St. Louis and Agudas Israel.
Funeral service Wednesday, May 18th, 10:00 AM at BERGER MEMORIAL CHAPEL, 9430 Olive Blvd. No visitation prior to service. Interment Beth Hamedrosh Hagodol Cemetery.