Phil Barron
Published February 28, 2023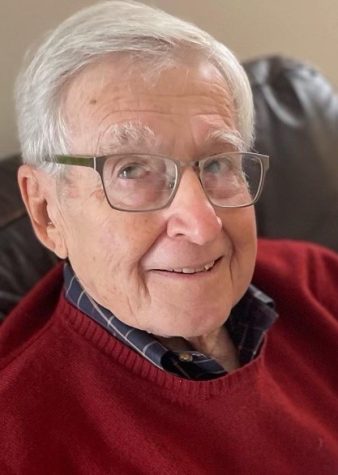 Phil Barron died peacefully in his sleep on February 24th, 2023. He was 87 years old.
He is survived by his wife Beverly (Koplar), and their four children; Steve (Susan), Deana (Bruce), Ted, Betsy (Jason), his grandchildren; Zach (Steph), Max (Hillary), Sophia, Elio, Isabel, Lincoln, and Desmond, great-grandson Charlie, and sister Judy Palson.
Phil was born in Boston on November 2nd, 1935. He attended Tulane University and Boston University where he met the love of his life Beverly Koplar. In 1958 they married and moved to St. Louis where he started his family and began his real estate career with Solon Gershman. He later founded his own real estate firm, Philip H. Barron Realty.
A born leader and a friend and mentor to many, Phil lent his talents to coaching youth sports in Clayton including Optimist League baseball and softball, Saturday basketball, and ice hockey, culminating with seven years as coach of the Clayton High School hockey team. He also enjoyed playing tennis at Shaw Park.
With his family, he traveled summers by car all over the United States and regularly to the family beach house at Nantasket Beach. Later in life, he and Beverly enjoyed traveling to Europe, especially France and Italy where he visited many wineries. He was a wine connoisseur, and an avid follower of the stock market. A lifelong Celtics and Red Sox fan, he never missed a game. Phil was an honorable man and a true gentleman. We will forever miss him and his Boston accent.
Funeral service Friday, March 3 at 1 PM at Temple Israel, 1 Alvan D Rubin Drive, St. Louis, MO 63141. Memorial contributions can be made to the Alzheimer's Association or Planned Parenthood. Please visit bergermemorialchapel.com for more information. BERGER MEMORIAL SERVICE