Norma Cohen Scallet
Published October 27, 2021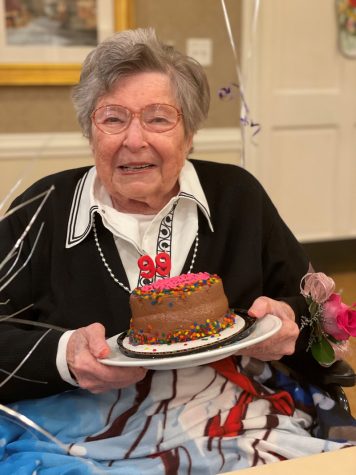 Norma Cohen Scallet, October 26, 2021
Beloved wife of the late Barrett L. Scallet Ph.D.; dear mother and mother-in-law of Leslie Lieberman (Maury) of Washington, D.C., Patricia A. Scallet, and the late Andrew C. Scallet (Madelon); dear grandmother of Rebekah Scallet (Joseph Stafford), Mitchell Scallet (Elisabeth), and Dori Scallet (Joseph Harouni); dear great-grandmother of Andrew and Edward Stafford, Eva and Emmett Scallet, and Avery and Leila Harouni; dear sister of the late Sidney Cohen (late Jacqueline), the late Milton Cohen (late Sylvia), and the late Robert Cohen (Naomi); dear sister-in-law of the late Edward Scallet (late Rosalie), the late Joseph Scallet (late Ethel), and the late Violet Scallet; our dear aunt, great-aunt, cousin, and friend to many.
Norma was born August 2, 1922, in St. Louis.  Daughter of Isadore and Celia Cohen, her father and his family built the St. Louis institution Central Hardware.  Norma grew up around the store, and told stories of her mother bringing her father lunch at the store every day on the streetcar.  Later she attended Clayton High School, where she and two friends became the first official Clayton High cheerleaders, after petitioning the school to create them.
Norma attended Washington University where she studied economics, and graduated in 1946.  That is also where she met her devoted husband Barrett. They married in 1943, and established their home in Clayton, Barrett working as Director of Research for Anheuser Busch and Norma taking care of their three children and always welcoming their friends to her home.  She volunteered for many Jewish and other charitable organizations.  Norma also served as a long-time docent at the St. Louis Art Museum, and was quite the artist herself. Her many paintings, drawings, and sculptures fill the homes of her family today.
After Barrett retired, they divided their time between St. Louis and Sanibel, Florida, enjoying theatre and music performances in both places.  They also saw the world, exploring far off places like Antarctica, Russia, China, and India. When each of their grandchildren had a bar or bat mitzvah, they were gifted with an international trip with Norma, Barrett, and Aunt Pat, each trip more memorable than the last.
After Barrett's death in 2010, Norma moved to the Gatesworth and then McKnight Place.  There she renewed many friendships and made new ones, and continued to practice her craft as an artist.  Though her days of international travel were over, she traveled to Little Rock, AR, and Chicago to attend her grandchildren's weddings and meet her new great-grandchildren.  Seeing her six great-grandchildren always brought a huge smile to her face.
Funeral service Thursday, October 28 at 1 p.m. at Congregation Temple Israel, 1 Rabbi Alvin D. Rubin Drive. Interment follows at Beth Hamedrosh Hagodol Cemetery. Please visit bergermemorialchapel.com for Live Stream information. Memorial contributions to the Saint Louis Art Museum or the charity of your choice. Please visit bergermemorialchapel.com for more information. BERGER MEMORIAL SERVICE