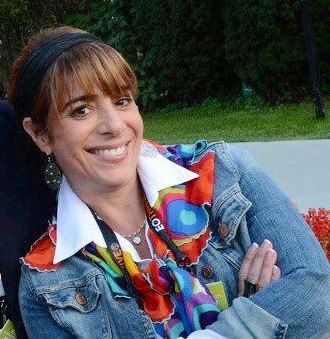 Nancy Alper, 52, died on Tuesday, June 27, 2017 in St. Louis, MO, after a long struggle with cancer. Nancy was born in St. Louis, MO to Estelle and Stanley Hoffman. In1992 she married Keith Alper and together they raised their son Max and their daughter Zoe.
Her greatest joy was in being a devoted mother, wife, aunt and great aunt. Known for her archival mind, her proclivity for research, for her whip-smart wit, her grasp of the English language, and her amazing organizational skills, she was best known for her optimism and compassion for others. She was involved in many charities including Pedal the Cause which raised money for Siteman Cancer Center, as well as coaching and supporting women who have undergone cancer treatment, including mastectomy.
Nancy is survived by her husband Keith, son Max, daughter Zoe, brothers Mark (Judy) Hoffman, Buddy Hoffman, Larry (Phyllis) Hoffman, in-laws Elliott and Peggy Alper, sister-in-law Risa (Joan Ettman) Alper, and brother-in-law Brian Alper.
 Visitation Friday, June 30th 9:00 AM at Congregation B'nai Amoona, 324 S. Mason Road, followed by funeral service at 10:00 AM. Interment at B'nai Amoona Cemetery. Memorial contributions may be made in Nancy's name to Siteman Cancer Center, St. Louis Children's Hospital or Camp Ramah in Wisconsin. Visit www.bergermemorialchapel.com for more information.
BERGER MEMORIAL SERVICE