Mikhail Gerschovich Galinsky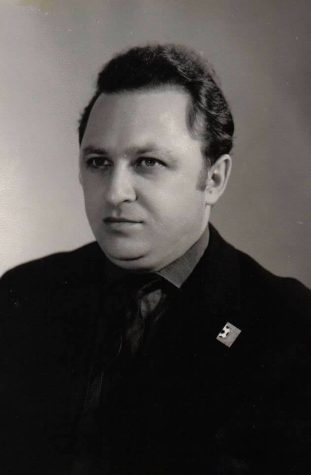 MIKHAIL GERSCHOVICH GALINSKY
Mikhail was born on 12/14/1937 in Kiev, Ukraine to Mother, Asya Gregoriavna Galinskaya, and he was adopted by his grandparents, Beila Moiseyevna Galinskaya and Avram-Gersch Mortkovitch Galinsky, so that they could help raise him and keep their family together. Mikhail had two aunts, Clara and Raya, who were more like sisters to him.
Mikhail died between 11 and 11:11 PM on 5/7/2023.
He was married to Sofya Galinsky for almost 57 years.
Mikhail and Sofya married on 04/02/1965 and have three children, Gary Galinsky, Marina Ceballos (Galinsky), and Alex Galinsky. Sofya and Mikhail have five grandchildren, Megan Galinsky, Andrew Galinsky, Olivia Ceballos, Micah Galinsky, and Norah Galinsky. They have three children in law, April Risteff, Helen Tsukerman, and Forrest Ceballos.
Mikhail and Sofya left family and friends in the USSR, and immigrated to the USA in 1978, with their three young children, to give us a better life. We landed in St. Louis, where they lived in University City, Olivette, and Richmond Heights.
He was independent, smart, brave, stubborn, generous, precise, opinionated, and a devoted caregiver.
He was a collector: books, stamps, baseball cards, coins, quarters, VHS tapes filled with recorded movies, CDs, DVDs, records, china, etc.
He worked as a head candy maker at Karl Bissinger's for 25 years, and he retired from there with a huge celebration. He still wore the engraved watch that they gave him, and he was very proud of his accomplishments. He was also very proud of the high quality chocolate that they made.
He liked reading, watching TV, the news, cooking, Cardinal's baseball games, soccer games, FIFA, hockey games, boxing, the Olympics, Circus Flora, the Muny, and when he was a child, he loved summer camp in the country, and hanging out with his friends.
He liked going out to eat and he especially liked grocery shopping. He liked watching the birds and squirrels eat the bird seed from the feeder, and he loved watching videos and looking at photos of his grandchildren and being on FaceTime with them.
He mostly loved his small family; his spouse, his sons, his grandchildren, and his daughter. Through his actions, taught them the importance of loyalty, integrity, work ethic, selflessness, sacrifice, compromise, and gratitude.
The two main programs and agencies that impacted his life were the Lumina Program with BJC Hospice, and JFS (Jewish Family Services), so please consider donating to one or both of them in his memory.