Mendel Rosenberg, Holocaust survivor who shared story with thousands of St. Louis students, dies at 92
Correction: An earlier version of this story incorrectly stated that Mendel Rosenberg was the last local living Holocaust survivor who experienced concentration camps. We apologize for the error. 
For decades after surviving the Dachau concentration camp in the Holocaust, Mendel Rosenberg had recurring nightmares, he said.
"Constantly the same," Rosenberg told the Jewish Light in 2005. "The Germans were chasing me, shooting at me, and I was running away."
In spite of that lingering trauma from murders of his father, brother and other relatives, and his experience with starvation and inhumane conditions, Rosenberg was able to survive, serve in the U.S. Army, become a successful businessman and have two children and seven grandchildren.
He was also able to find relief from the nightmares by sharing his story with thousands of students over 25 years at what is now called the St. Louis Kaplan Feldman Holocaust Museum.
Rosenberg died July 27 at age 92.
"Mendel's passing is a great loss to the museum and to the community, and I always say when a survivor dies, it's obviously a great loss and a tragedy, but you also are losing a piece of history, another person who could testify first-hand to what he experienced during the Holocaust, and Mendel was very committed to that," said Reich.
Rosenberg was born in 1928 in Koenigsburg, Germany, but he spent most of his childhood in Lithuania, according to the museum.
He described it as a normal adolescence in which he attended a private high school and learned Hebrew — until the country was occupied by Russia and then Germany.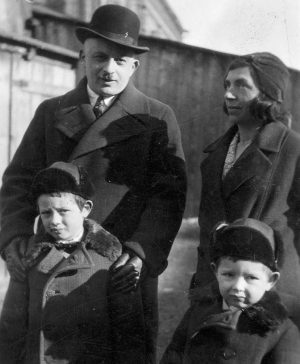 In 1941, his father, Shimon, and only brother, Samuel, were taken to a jail and then separated.
"They just knocked on the door and they came in with their rifles…and they just took them. It was as simple as that," Rosenberg told the museum as part of its Oral History Project.
His father was shot and killed. The family bribed people in order to have his brother released, and they then remained in a ghetto until 1944. He and his brother were sent to the Stuffhof concentration camp and then Muhldorf, a subcamp of Dachau. His mother, Recha, remained at Stuffhof.
"In Dachau, the rations were even smaller than those in the ghetto and a lot of people were dying from hunger, and I managed to survive," Rosenberg told the Light.
The brothers were separated in 1945.
"He left, and he never came back and when I tried looking and find out where he was and trying to find him and trying to see if I can be transferred wherever he was, [it] was impossible," Rosenberg said in his oral history.
Rosenberg was on a train from Dachau to the mountains, where he expected to be killed, when the U.S. Army arrived and liberated the camp. He learned after the war that his brother was beaten to death at the camp by a kapo, an inmate assigned by Nazi guards to supervise other prisoners.
His mother was liberated by the Russian army, and the two reunited at a displaced persons camp and emigrated to the United States in 1947. They settled in Youngstown, Ohio.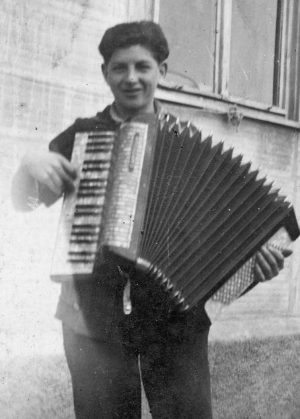 In 1951, he was drafted into the Army and served two years during the Korean War.
"He could have opted out of military service because of what he had been through — that would have been permissible — and he didn't. He wanted to become a U.S. citizen in every way possible," said Richard Weiss, who helped Rosenberg write his memoir, "Thriver: My Journey Through Holocaust Nightmare to American Dream."
Before and after his military service, Rosenberg worked for a company that manufactured storm windows and doors. In 1957, the company transferred Rosenberg, who was now married, to St. Louis. He was able to finally receive his high school diploma after completing his only missing class: American history.
In 1966, he started his own window company, Delsan Industries, and remained in the business until he retired in 1995.
Meanwhile, for much of his adult life, he didn't talk about his experience during the Holocaust. Then a friend who was teaching about that period at Congregation Temple Israel asked him to speak to his class.
"I kept refusing, and then finally gave in and spoke to his class, and that's when I started speaking. I never refuse an invitation to speak about the Holocaust," Rosenberg told the Light.
That led to him speaking at the museum and allowed generations of St. Louis students to gain a better understanding of what the Holocaust meant for individuals.
"He spoke to many classes of my 8th graders from Carlinville Middle School; our visit to the museum was a highlight of every year," a teacher in the Illinois school district posted on the museum Facebook page. "One year Mr. Rosenberg told me that he was 'retiring' from speaking, but two years later I was thrilled to arrive and learn that he was our speaker once again. He told me he just couldn't give it up. I loved his interaction with our students, and the way he would point his finger with emphasis as he told them to stay in school and get the highest education they could."
In spite of the horror of his story, Rosenberg was able to inject humor into his talks, which made them more accessible to students, Reich said.
"If young people didn't ask questions, he would stop and say, 'Why aren't you asking? Are you listening? Ask.' And he would sort of wait until they would," Reich said. "His message to students was always, 'With education, they could accomplish anything. He was an example of someone who came with nothing and built a beautiful life and felt that he always wanted to give back."
Even during the COVID-19 pandemic and as his health declined, Rosenberg continued to deliver presentations over the Zoom teleconferencing platform with the help of his daughter.
"My heart is broken," said Irl Solomon, a longtime docent at the museum. "Mendel's passing is devastating news to the [museum] docents and staff and all who knew and loved him, as well as future visitors who will not get to know him except on video. He showed amazing strength over the past several years."
Rosenberg is survived by his wife, Sandra (Cohen) Rosenberg; his daughter, Renee Silverstein (Sam); his son, Stuart Rosenberg (Kathi); seven grandchildren and five great-grandchildren.
A funeral is scheduled for 10:30 a.m., Friday, July 30 at Chesed Shel Emeth Cemetery at 650 White Road in Chesterfield.
Memorial contributions can be made to the St. Louis Kaplan Feldman Holocaust Museum, 12 Millstone Campus Drive, St. Louis, Mo., 63146 or to Kol Rinah Congregation, 7701 Maryland Ave., Clayton, Mo., 63105.