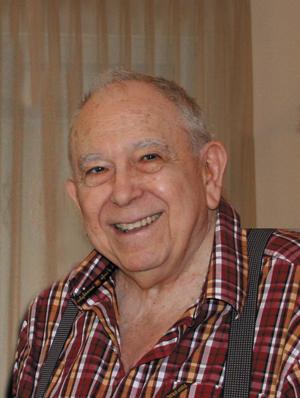 Marvin Kodner, a veteran of World War II who operated a kosher butcher shop in St. Louis for several years, died Saturday, Aug. 20, at the Sunrise Senior Center on Clayton Road in Richmond Heights, surrounded by family members and friends. He was 85 and had been a longtime resident of Richmond Heights.
His son, Gary Kodner, described his father as, "Passionate, loving, funny, determined, impatient, colorful, simple, artistic, sensitive, dependent, resourceful, sarcastic, helpful, dedicated. My father meant so many things to me and all those who knew him," said Gary Kodner, who is a vice president on the Jewish Light Board of Trustees.
He added that his father "loved life. He loved his family. He loved to read, and when he became too blind to read, he listened to book after book on tape.
"He loved animals, fishing and kvetching…He loved his devoted wife, Sue Fadem Kodner. He was uncompromising in his core beliefs. He had a gruff exterior but a soft inside. He placed family above all things."
Marvin Kodner was born in St. Louis on March 30, 1926, the first day of Passover, the son of the late Paul and Pearl Kodner. His family lived in a flat in St. Louis at Webster Avenue and Thomas Street, above their kosher butcher shop. His parents were Yiddish-speaking immigrants from Russia. Mr. Kodner was the second of three children. His older sister was the late Sylvia Kodner Rothberg and his younger brother is Myron Kodner.
Mr. Kodner became a bar mitzvah at the Beth David Shul on Belt Avenue on April 5, 1939, also the first day of Passover, where Rev. (Rabbi) Nathan Blitz officiated. He attended the Arlington Elementary School on Burd Avenue and attended Hebrew School at Bais Davd Shul. He graduated from Soldan High School in 1944.
Mr. Kodner enlisted in the U.S. Army Air Corps in August 1944 at Jefferson Barracks. He was trained as a tail gunner in the Air Corps. He served in the Pacific Theatre of Operations during World War II, and was stationed overseas in Manila, Philippines while in the military. After a year in the military, Mr. Kodner's father suffered a heart attack and he was summoned home on an emergency furlough.
Upon his return to St. Louis, Mr. Kodner took over the running of the family business, the P. Kodner's Kosher Meat Market, then located on Easton Avenue (now Martin Luther King Avenue) near Goodfellow and later on Olive Street Road in University City. After his parents retired from the meat business, Mr. Kodner, along with his brother Myron and brother-in-law Manuel Rothberg, took on greater responsibility and ownership of the business.
Mr. Kodner met his future wife, Sue Fadem on a blind date set up by his friend Sid Fox, to attend a birthday party for her close friend Jean Sloofman. They were married March 20, 1949 at the Kingsway Hotel on Kingshighway and Lindell, where the late Rabbi Menachem Tzvi Eichenstein officiated. "The entire kosher butcher community attended," noted Gary Kodner. "Unlike today, there were 15 to 20 kosher butcher shops represented among the 200 guests."
The Kodners had their first two children, sons Steve in 1950 and Rob in 1952. Later, Gary was born in 1955 and Rick was born in 1957. The Kodners lived in the same home on Kurt Avenue in Richmond Heights since 1953. Gary Kodner said, "the neighborhood quickly became a Jewish enclave, complete with young families, an elementary school and, in 1960, a Conservative synagogue, Brith Sholom Kneseth Israel."
After closing the family butcher business, Mr. Kodner worked in the quick printing business, then worked with his brother Myron for a few years and also worked as a butcher for Kurt Hermann at Triple H Farms. He then joined Allen Foods, where he worked until his retirement in 2001.
In December 2006, Mr. Kodner underwent quadruple bypass surgery. Complications extended his stay in the hospital. In March 2011 he moved to the Sunrise Senior Living Center on Clayton Road in Richmond Heights. "He had a comfortable room with good company and only blocks away from the house," said Gary Kodner. "He quickly made friends with other residents and had a whole new audience to tell his many stories."
Survivors include his wife, Sue Fadem Kodner; four sons, Steve (Lanie); Robert (Mary) Gary (Peggy Nehman) and Ricky (Gail Brody) Kodner; a brother, Myron (Gail) Kodner all of St. Louis; and a sister-in-law, Marilyn (Louis) Diamond of Tulsa, Okla.; eight grandchildren and two great-grandchildren.
Funeral services were held Tuesday at Brith Sholom Kneseth Israel Congregation, where Rabbi Mordecai Miller of BSKI, and Rabbi Mark Fasman, and Hazzan Joanna Dulkin of Shaare Zedek Synagogue officiated. Burial was at the Beth Hamedrosh Hagodol Cemetery on Ladue Road.