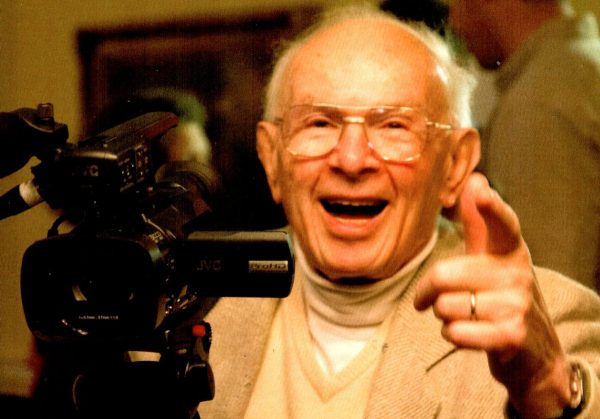 Martin E. Gordon, 102, died peacefully on November 9, 2023.
Born in Kyiv in 1921, Marty arrived in the U.S. at Ellis Island, just 8 months old, with his mother and two sisters, after his father died.
He grew up in Akron, OH, attended Kent State University, and made a leap east to Yale Medical School, where he discovered his passion for gastroenterology. Marty built a private practice in New Haven and went on to develop award-winning clinical aids and educational materials, while also avidly mentoring students as a clinical professor at Yale Medical School. He also became an expert in travel medicine, having developed a talent for diagnosing the mysterious ailments that students and faculty brought back with them from their travels far afield.
He retired as a clinician after 40 years and embarked on a second career at Yale University as chair of the Cushing/Whitney Medical Historical Library Associates' board of trustees, where he became well-known for his unusually creative exhibits.
At the age of 89, after the death of his beloved wife, Evelyn, he moved to St. Louis, where he dove into his next career studying medicinal plants—filming a documentary, conducting interviews far and wide, and, at the age of 97, publishing a book on the subject, Plants R Cures.
Marty made friends wherever he went and was known for his generosity, everlasting curiosity, love of learning, enthusiasm, humor, and good cheer. He will be deeply missed.
Predeceased by his wife Evelyn of 61 years, he is survived by son Jeffrey Gordon (Deborah d.), daughter Judy Dienstag (Jules), four grandchildren (Brian Gordon, Alison Haar [Kevin], Josh Dienstag [Kate Peachway], and Jonathan Dienstag [Grier]), eight great-grandchildren, and longtime partner Madelon Price. Donations can be made in Dr. Gordon's honor to St. Louis Arc (https://www.slarc.org), Pathways to Independence (https://ptistl.org), or Shir Hadash Reconstructionist Community (https://www.shirhadashstl.info/donate). Please visit bergermemorialchapel.com for more information.