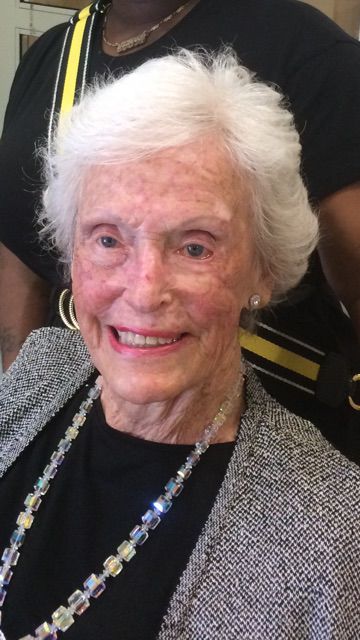 Marcine Cutter Komen, age 90, passed away peacefully on April 5, 2020 in Gladwyne, PA. 
Marcine was born during a rare and record-setting spring snowstorm in St. Louis on May 2, 1929 to Michael and Rosella Cutter to whom she was a loving and devoted daughter. She was the beloved wife of Theodore Komen, with whom she spent 67 beautiful years and who predeceased her in 2016.
She was a wonderful and much-loved mother to Mark (Wendy), Julie, and Jennifer (Michael); and a loving grandmother to Victoria (Mike), Madeline (Brad), Jack, and Charlotte. In her last year of life, she lived near and spent may hours with her great-grandchildren, Bradley, Jeffrey, and Samantha. Marcine had a keen sense of gratitude for the many blessing she had in this life, and she expressed her love and appreciation daily to those around her.
The family will have a memorial service in the future to celebrate Marcine's life. Memorial contributions may be made to Susan G. Komen, 5005 LBJ Freeway, Suite 526, Dallas, TX 75244 or the charity of your choice.