Lenora Rachel Citrin
Published October 23, 2022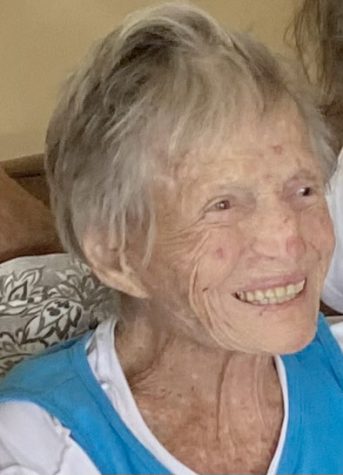 Lenora Rachel Citrin passed away peacefully in her sleep on 9/11/2022, 4 days after she celebrated her 100th birthday on September 7.
Born in St. Louis to Morris Maltzman and Erna Mueller, the oldest of 4 – Sidney, Eddie, and Geraldine (Geri) who all predeceased her.
Rachel met the love of her life, Morrie Citrin, while teaching Morse code at Scott Field (now Scott Air Force Base) close by St. Louis in Belleville, IL.  Morrie invited himself over for Passover; Lenora was elated- she had no idea this blue eyed, light haired New Yorker was Jewish.  When he arrived on Goodfellow Avenue for the seder, his future father in law, took one look and declared in Yiddish to his wife,  "She brings a shagitz to Passover?".  Morrie heard the comment, made his way to the piano in the parlor, sat down and started playing Yiddish songs!  They were married in November of 1946, and in time had 3 boys- Bruce, who passed away October of 2021, Billy, and Jeffrey.
In December of 1976, Morrie passed away, suddenly, while dancing with his wife, Lee, or Rachel, as she was now known.   With no attachments to St. Louis, she was free to explore the world.  Her travels took her to Esalen Institute in California where she learned the Five Tibetans- exercises to keep you fit and flexible for life;  Puna, India to study under an Indian mystic, Raj Neesh.
In 1979, son Billy called and invited her to come on a 'magic carpet trip' to Jamaica.   Rachel fell in love with Jamaica.  When the week at the 5 star in Montego Bay was over, Rachel announced – I like it here, I'm staying. I'm staying.  Billy, ever the dutiful son said 'Ok- no problem'.  Rachel rented a cottage on the beach in Negril.  In time, she met  a Rasta with dreadlocks, Sydney Munroe, and they moved to Spring Garden- back in the hills- off the grid.  She and Sydney opened a health center where Rachel did massage, her partner did Reiki- energy healing.  Clients would stay on the grounds of their healing center.
In the early 1980s Cedella Booker stayed at Spring Garden for a week to help deal with grief from the early death of her 36-year-old musician son, Bob Marley.  Rachel eventually left Sydney and Jamaica and found a new home in San Miguel De Allende, Mexico. Rachel lived in SMA for many years; at 6000 ft elevation — winters were cold.  To avoid the cold, mom traveled during winter to warm climates all over — to Bali living in hut on an island only accessible by boat, to Tibet where she spent 2 weeks in  silent retreat at a monastery, to a back country tour of Cuba, when it was still closed to Americans.  She got tired of taking long winter trips, and discovered  a paradise just 8 hours away by bus- Barra de Navidad on the Pacific coast of Mexico.  Rachel loved living in Barra- yoga, dancing to Gabriel Roth's Five Rhythms, sea food caught fresh that morning, the powerful  ocean with huge waves and glorious sunsets.  She had found another Yavneh, a paradise,  like 78th Street in University City — where you actually knew (and liked!) your neighbors.
About 5 years ago, son Jeffrey said, Mom- I 'm going back to Jamaica. I'm in! she said.  Mom spent the last years of her life living in Negril.  Swimming in the warm Caribbean sea, riding on the back of Jeffrey's moped at age 99 – laughing and singing in tongues.  Did I mention she had her eyes opened – she had a vision of Jesus while in Spring Garden.  I'm a Jewess she'd say, but I believe in Jesus.  Fine Momma, works for me.  In January of this year, she called from Negril… my legs are swelling and I'm short of breath.   The water pills, or pee pills, could only do so much.  No Mom- no need to see a doctor in Mo Bay, it's time to come home.  In May she returned to St. Louis.   The swelling turned out to be heart disease (Mom didn't like the word heart failure- who wants to be a failure!).
She often said, I'm living a fairy tale life… I'm living my "happily ever after".  Surrounded by family and dear friends, she spent the last few months living in Jeffrey's light filled guest room, receiving visitors from near and far who'd come to say their goodbyes and spend one last time with her.
She was very  happy and present  right up to the end.  She had peace and knew she was going to a good place- to be with her Morrie, and mom and pop- and dear sister Geri.
 A favorite song of hers was by gospel singer Carole Robinson- ' I can honestly say, if I were to die today- I've lived a wonderful  life!'  Amen Momma.  I know you're up there having a great time- miss you the world- but how comforting to know I'll see you and be with you again.  Thanks to God for that blessed hope.  Oh grave where is thy sting, Oh death where is thy victory.
Rachel was blessed with a loving family – Bruce's widow- Joan and two grandsons- David and Sara (Benton) with great-granddaughter Eliana; Bryan and soon to be bride Chelsea (Perry); son Billy Citrin and grandson Nicholas,  son Jeffrey with granddaughter Miriam and Daniel Hetzel, with  Clark and Violet, granddaughter Abby and John Kowalik with Lena, Nora, Diana, Cece and Rosemary, and grandson Jonathan, who loved playing violin for his granny,  and so many other loving nieces, nephews and dear friends in St. Louis and beyond. (Thank you also to grandniece Eve Maltzman who's put together a wonderful tribute on TikTok/Rachel's Wisdom).  Memorial contributions can be made to Nusach Hari B'nai Zion or St. Louis Family Church.
Berger Memorial Service