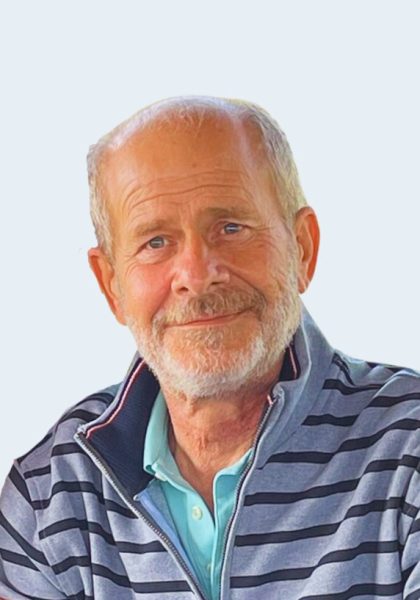 Our big hearted guy, Kevin Reinert, passed away on November 4, 2023. Our "Gogi" was beloved and is survived by his incredible wife Emily, children Leah (Autumn) Reinert, Tara Reinert, Lauren Becker, David (Cali) Becker, grandchildren Hadley and Easton Becker, and granddogs Stella, Harry, Snack Pack, and Joxer. While Gogi stands for grumpy, old guy, he was our warm and loving protector. Kevin was predeceased by his mother, Jacqueline Jean Lanman Reinert, his dogs Tyke, Jordan, and JT, and granddog Gracie. 
While Kevin was born in Valparaiso, Indiana, he lived most of his life in Illinois and Missouri, he truly loved the beach, and being warm on the water. His wishes are to be laid to rest in the waters off San Diego. Having grown up in northwestern Indiana, Kevin was an avid Chicago sports fan. We are thrilled he was able to see his beloved Cubs win a World Series during his lifetime (though his children were smart enough to be Cardinals fans…). 
Kevin spent the last 20+ years crafting and creating by designing and building decks and fences throughout the community. He had a talent for design and craftsmanship and enjoyed working for himself (no one to boss him around). He preferred to start his day with his favorite meal, two eggs, sausage patties (not links) and white toast (lots of butter) along with a coffee (or pot) with friends and family. 
To further support Kevin's love of four legged friends, please send any donations to the Stray Rescue of St. Louis at www.strayrescue.org/kevinreinert. Once the family is ready, a Celebration of Life event will be held at a future date.