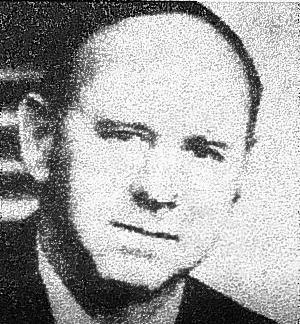 John Samuel Wolff, 94, of San Diego, California, passed away, Saturday, March 11, 2017, 6 days before his 95th birthday. John was born on March 17, 1922 in St. Louis, MO to Helen Weil and Walter Wolff.  
He served as a Naval Chief Petty Officer starting in 1942, teaching warfare aquatics at the Mission Beach Plunge in San Diego, CA. His mastery of swimming included being a member of the Navy Swim Team and the Navy Aquatics Exhibition Team, which provided entertainment to other Armed Services divisions and toured with Olympians, Johnny Weissmuller and Buster Crabbe.  
John was a successful and visionary business executive. He was President and Chief Executive Officer of The Helen Wolff Shops, a thriving apparel business in St Louis, MO and Sarasota, FL. His charismatic, engaging and caring personality fostered long-standing relationships with customers, employees and colleagues. And, he seemed to always know what would be in style next year. John was also a dedicated community leader in St. Louis. He was named Clayton Citizen of the Year, Businessman of the Year and St. Louis County Businessman of the Year.  
Drawing upon his marketing acumen, he served on the advisory board of Clayton Tomorrow best known for its campaign Top Banana which successfully increased business development in central Clayton. In addition, he served on numerous boards dedicated to improving local parks and services to children. In retirement, John moved to San Diego, CA and continued his passionate pursuit of his many interests. 
His love for baseball included being a lifelong St. Louis Cardinals fan and participating in local senior softball leagues into his 80s. Other hobbies included his decades of photographic work (including the transition from film to digital) and growing computer expertise, becoming an early adopter and longtime devotee of Apple technology.  
Among his most proud achievements are those he is survived by his adored wife of 21 years, Nansea Blackford Wolff, his children, Susan Kalish (Lyle), Jean Cohn (David), Patty Fonda (Steve), John Wolff Jr. (Pam), Anni Shelton (Gary), Jenny Wolski (Larry) and Krissy Wolff, and his 14 grandchildren and 9 great grandchildren. The family would like to thank Stephanie Alexander, Sue Kiselica, Thapanee Bernal and Beth Herrick of Silverado Hospice for their gentle care and concern for John's comfort. 
Services: Services to be held at Fort Rosecrans Cemetery on April 7 th at 9:30 am. In memory of our beloved John Wolff, the family requests that in lieu of flowers, a memorial donation in honor of John may be made to Silverado Hospice, 335 Saxony Rd, Encinitas, CA 92024-2723 or San Diego Altrusa Club Foundation, 4245 5th Ave, San Diego, CA 92103.