Irene Rosalie Funk Greenspoon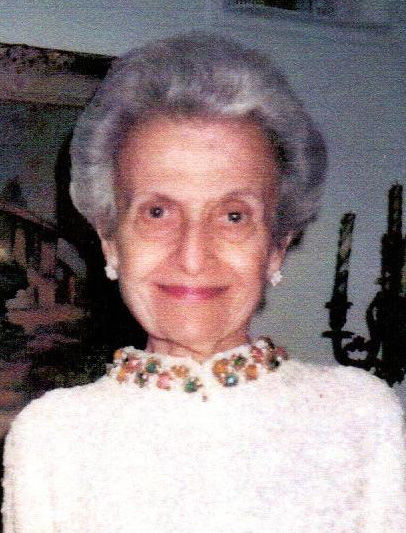 Irene Rosalie Funk Greenspoon gracefully ascended to heaven on May 29, 2020 from whence she was sent to bless us for 93 years. Deeply loving and deeply beloved wife, of 52 years, of the late Melvin A. Greenspoon; loving and beloved beyond words mother, angel, soulmate and whole world of daughter, Barbara E. Greenspoon; loving and beloved daughter of the late Mr. and Mrs. Morris A. (Mary Zeffren) Funk; loving and beloved sister and sister-in-law of Mrs. Susan Funk Barad (late Mr. Melvin A. Barad); loving and beloved aunt of Mr. and Mrs. Edward N. (Marlin) Barad, Huntley W. (Tirzah) Barad, Thomas K. (Jill) Barad; loving and beloved great- and great-great-aunt of their children and grandchildren; loving and beloved relative of the Funk and Zeffren families; loving and beloved friend.
Irene was all sweetness and light and loved helping others, especially seniors, through St. Louis National Council of Jewish Women, as creative and loving Chairman of Council Project for Seniors and Visually Impaired, as part of establishing St. Louis NCJW Delcrest, a first full-service Residence for Seniors of moderate income (now belongs to Crown Center), on its Board of Directors, as compassionate Director of Admissions, Interior Re-Decorator and spending time at Delcrest with every resident, family, staff and program.  Irene loved art and was an active member of St. Louis NCJW's Art Interest Group and House Tour Committee. Elected president of St. Louis NCJW, but due to family illness, resigned to V.P. Elected as a representative of St. Louis NCJW National Convention of Presidents, where she gave seminars on her work with seniors and taught an Art History Class. 
Irene was a lifelong, very active family member of beloved Congregation Shaare Emeth. She was a 15-year volunteer of the St. Louis Art Museum Visitor's Service Desk, which elected her to represent them on Board of the Friends. Irene also was an 11-year real estate agent at Laura McCarthy. 
She loved to sing, write ingenious fun songs, and loved all music – especially from the 1930s and 1940s and was a lifelong family subscriber to the St. Louis Symphony. Irene was the devoted, 24/7, sole caregiver for 12 years to her beloved husband, Mel.
My mother and I were/are each other's Reason for Living, Our Two Hearts Together as One, Forever. Everyone loved beautiful – inside and outside – Irene. 
God bless our families of Parc Provence and Heartland Hospice.
Private graveside service. A memorial service will be planned and announced at a later date. Memorial contributions preferred to Congregation Shaare Emeth, St. Louis NCJW or Crown Center.
Please visit bergermemorialchapel.com for more information. BERGER MEMORIAL SERVICE