Helene Baskowitz Roberson
Published August 30, 2021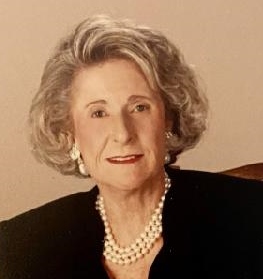 Helene Baskowitz Roberson, April 29, 1924-August 21, 2021
Helene passed away peacefully at her home in Daytona Beach Shores, FL. with her son and family members at her bedside.
She was born in St. Louis, MO, to Robert and Eva Baskowitz. She was preceded in death by her parents, her two brothers, Robert and Norman Baskowitz and her sister, Betty Baskowitz Cruvant. She is survived by her son, Robbie C. Roberson of Daytona Beach, FL, her nieces, Curtiss Recklein, Eve Ross, Karen Boebinger, and her nephew, Karl Baskowitz.
Helene relocated from St. Louis, MO. to Daytona Beach, FL in 1959. She was an instrumental member of the local Daytona Beach community contributing to business, cultural, and charitable organizations. Her business career began as the owner, President and CEO of Daytona Budweiser, Inc., the local distributor of Anheuser Busch products for Volusia and Flagler counties until she retired in 1995. Thereafter, she continued on as the President and CEO of Lanie Enterprises, Inc.
Helene touched so many lives during her wonderful 97 year lifespan, both personally and through business. Hardly a day would go by that a son, daughter, nephew, niece, former employee or even their family members would approach her and introduce themselves as one of the above. They all seemed to want to be recognized as a friend of this wonderful woman everyone loved.
Over the years, Helene never lost sight of her belief that a community guides its destiny by enriching its citizen's lives through education and cultural arts. She was a proud participant in, and benefactor of, many organizations within the local community and beyond, including among others: Embry Riddle Aeronautical University; The Atlantic Center for the Arts; The London Symphony Orchestra; the "Roberson Visiting Executive In Residence Program" at Stetson University, Deland, FL; the "Helene B. Roberson Pediatric Chair" at Washington University, School of Medicine, St. Louis, MO; "The Helene B. Roberson Visible Storage Unit" at the Museum of Arts and Science, Daytona Beach, FL; and the "Helene B. Roberson Equestrian Center" at Boggy Creek Camp For Children in Eustis, FL.
Helene will be buried in the family plot in the New Mt. Sinai Cemetery, St. Louis, MO.  In lieu of flowers, the family requests donations be made to the Volusia/Flagler Hospice at 3800 Woodbriar Road, Port Orange, FL 32129.
A RINDSKOPF-ROTH SERVICE