Harold Lee Schneider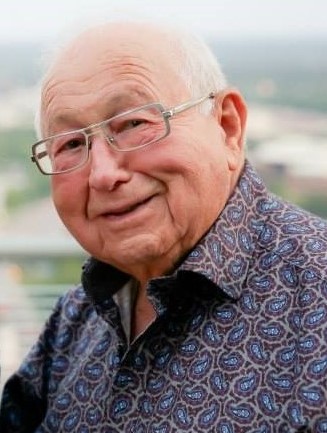 Published December 27, 2021
Harold Lee Schneider, age 99, died December 22, 2021 surrounded by his family. Harold was the beloved husband of the recently deceased Dorothy Schneider. Their 75-year marriage (preceded by a 6-year courtship) was the foundation of an extraordinary family. Harold was the loving father of Barbara (the late Dr. Jeffrey) Pevnick, Kathy (Tom) Bearman, and Terry (Jamie) Schneider. He was the world's best Grandpa to Joshua (Melissa Turai), Seth (Alex Prinstein), Ryan (Kathleen Doherty), and Justin Pevnick; Tim (Nicole) and Kelsey (Stephen Howard) Bearman; Abby (Alan Garelick) and Adam Schneider. He was an adoring G'PA to his great grandchildren, Lilah, Leo, Joah, Ivy, Emery, Corinne, Phoebe, Wynn, and Graham. Harold was the son of Benjamin and Ida Shapiro Schneider, brother of the late Lillian Busch, the late Bertha Schrenzel, the late Jerome Schneider and brother-in-law of the late Sam Kaufman and the late Ruth Sacks.
Dorothy and Harold shared a fairytale love story that began in 1939 on a dance floor. Harold graduated as valedictorian and president of his Soldan High School class and, choosing closeness to family rather than a full scholarship to MIT, he enrolled at Washington University in St. Louis. Harold attended Washington U. year-round on special government war orders, graduating in 1943 at age 20, with degrees in mechanical and electrical engineering, again as valedictorian.  Upon graduation, Harold joined the war effort as a radar and sonar repairman on the USS Tutuila where he climbed by net, mid-ocean, from his service ship to warships in need of repair. He never learned to swim.
After the war, Harold embarked on a 40-year career with Monsanto where he became a trusted executive, serving as Chief Engineer and later focusing on continuous corporate improvement. After retiring from Monsanto, Harold dedicated more than full-time effort to becoming a maestro of the stock market through his late 90's. Harold quietly worked head-down his entire life to the benefit of his family, friends and charities of importance to him. He never sought recognition or audience.
Harold and Dorothy traveled the world, building a wealth of understanding and appreciation of world events along the way. Harold had a true interest in current events and was a lifelong learner who applied himself fully to every one of his life's endeavors.
Harold never knew a short-cut and held himself and others to tremendously high standards. He used his vacations to help in his father's tailor shop; his own hands to double the size of his family home; his uncommon intellect to enhance those he encountered throughout his career; and his love of family to serve as a trusted patriarch.
Graveside service was Sunday, December 26 at 2:00 pm at Beth Hamedrosh Hagodol Cemetery, 9125 Ladue Road. Memorial contributions preferred to The Scholarship Foundation or the charity of your choice.
BERGER MEMORIAL SERVICE