Gloria Marlene Schramm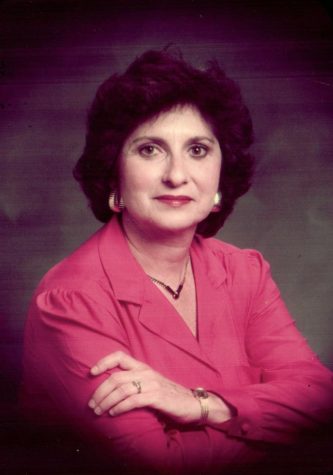 Gloria Marlene Schramm, April 13, 2023
Daughter of the late Meyer and Esther Bluestein; Beloved wife of the late Fred S. Schramm;  devoted mother and mother-in-law of Taena (Morty) Rock, Adina (Wayne) Zaideman, Malina Schramm and Rochelle (Tim) Lootens;   Loving grandmother of Shawn Silverberg, Carrie (Luke) Kampschmidt, Jamie (Brandon) Hess, Eliana (Ilan) Shvartz, Marni (Ted) Koshiol, Jared Zaideman, Rachel Lootens and Sarah Lootens.  Proud great-grandmother of Avi Conoley Silverberg, Ava Kampschmidt, Kaley Kampschmidt, Austin Hess, Genevieve Hess, Kina Koshiol, Livi Koshiol, Max Koshiol, Nathan Koshiol and Brielle Shvartz;  cherished sister of Samuel (Shirley) Bluestein and the late Evelyn (late Roland) Roth; dear aunt, cousin and friend to many.
Gloria was born and raised in St. Louis to a loving family and lived there her entire life.  She excelled at sports, school, work and really enjoyed her life.  Gloria met her beloved, Fred, at a dance and it was love at first sight.  He asked her to go steady immediately.  She agreed and within a year they were married.  They started their family together bonding through love, devotion and religious beliefs.  They were always the life of the party wherever they went.  They enjoyed travel, food, dancing and meeting new people.  They shared 59 wonderful years together until his passing in 2012.
Gloria's greatest joy was being with her family, attending family mitzvahs and special events.  She also enjoyed each of her dogs, playing mahjong, exercising, bowling, eating out, visiting local landmarks and traveling with her children.  She was an active member of Na'amat and participated in various charity events.
She lived a long, full, happy life with many simchas.  She was generous with her time and always lent an ear or a shoulder to anyone.  Gloria was taken from us too soon and will be missed by everyone she touched beyond imagination.
Graveside service Monday April 17, 1:00 PM at Chesed Shel Emeth Cemetery, 650 White Rd 63017.  Memorial contributions preferred to Congregation B'nai Amoona, the Humane Society of Missouri or a charity of your choice.  Visit www.bergermemorialchapel.com for more information.
BERGER MEMORIAL SERVICE