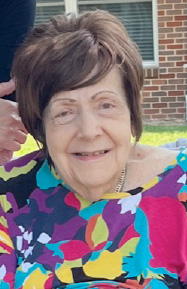 Estelle Ann (Routman) Kram passed away September 23, 2023. She would have been 94 years old on October 18. She was preceded in death in 2020 by her husband of 69 years, Morris Kram. She will be greatly missed by her children Sandy (Albert Croft) Weinstock, Dr. Kenneth (Marcia) Kram, Barbara Virgil and Randy Virgil (husband, deceased) and special daughter-in-law Carol (Rick) Grosz.
Grandma was loved by her grandchildren Justin Ross, David Kram, Adam Kram (deceased), Emily Kram, Elizabeth Virgil and Stryker Virgil, as well as her great-grandchildren Layla Kram and Brayden Kram.
Estelle was born and raised in St. Louis on October 18, 1929. She valued her husband, children, and grandchildren above everything and relished in making a Kosher home and childrearing.
She was a wonderful cook, and nothing gave her more pleasure than cooking family meals for the whole gang. Her daughter Sandy is lucky enough to be the recipient of her cooking knowledge and recipes.
Estelle took great pride in her family's long-standing membership and participation at Nusach Hari B'nai Zion Synagogue. Estelle also enjoyed mah-jong, and shopping.
The family is forever grateful to and would like to thank Emily Wohlschlaeger, her caregiver for the past three years, who treated and took care of Estelle with the utmost love and care.
In recent years, she recovered from a broken hip and a broken knee. She was never the same after the passing of her husband and spoke of him daily, missing him beyond measure. She is finally at peace with him. We love you very much and will miss you forever.
Graveside services will be held Wednesday, September 27 at 1 pm at Chesed Shel Emeth Cemetery, 650 White Road, 63017.  Memorial contributions preferred to Nusach Hari B'nai Zion Synagogue.  Please visit bergermemorialchapel.com for more information. Berger Memorial Service