Elaine Carrol (Cohen) Shapiro
Published February 16, 2022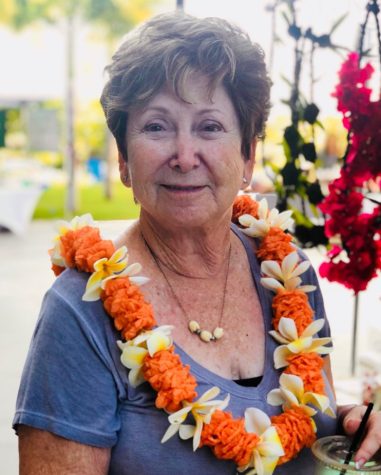 Artist Elaine Carrol (Cohen) Shapiro, 76, of Kihei, HI passed away peacefully Wednesday, January 26, 2022 after a fall. She was preceded in death, by her loving husband Gerald Shapiro and her sister Bernadette Bloom. She is survived by her daughters Robin Shapiro (Mike Riley) and Wendy Brenman (Dr. Ephraim Brenman) and grandchildren Mara Riley, Benjamin Riley, Emily Brenman and Noah Brenman. She is also survived by her sister Marlene Petrofsky, niece Vicki Deutsch (husband Steve Deutsch), grand-niece Jenny Shrensker, grand-nephew Jonathan Deutsch and great-grand nieces Whitney and Annalie Shrensker.
Elaine was born in St. Louis, Missouri to Benjamin Cohen, Jr. and Rose Cohen (Gittleman) in 1945. She met her high school sweetheart, 'twinkle-toes' Jerry Shapiro, whom she was happily married to for 44 years. Both graduated from U City High;Jerry in 1962 and Elaine in 1963. Elaine graduated phi beta kappa from Washington University with a degree in fine arts.
Elaine was an award-winning artist who loved to experiment with a wide range of mediums, muses and ideas. Her pieces have been featured in dozens of juried shows throughout her lifetime and she was very active in the Maui arts community.
While art was her passion and vocation, 'Lainie' had a wide circle of friends and neighbors who appreciated her kindness, playful musings and Zen spirit. She loved to be surrounded by beauty and treasured living in the tropical paradise of her home on Maui. Her life was filled by the wonderful friends she had through her Angel/Dream groups, golf buddies and gym friends, among the many people whose life she positively impacted. 
A private Celebration of Life is planned by her daughters for March 20, 2022. In lieu of flowers, please consider a donation to:
• Maui Food Bank, 760 Kolu Street, Wailuku, HI 96793, https://mauifoodbank.org/donate/ 
• HealthAdvocateX, 140 Lakeside Ave. #A-18, Seattle, WA 98122, https://healthadvocatex.app.neoncrm.com/np/clients/healthadvocatex/donation.jsp