Dr. Stanley Frager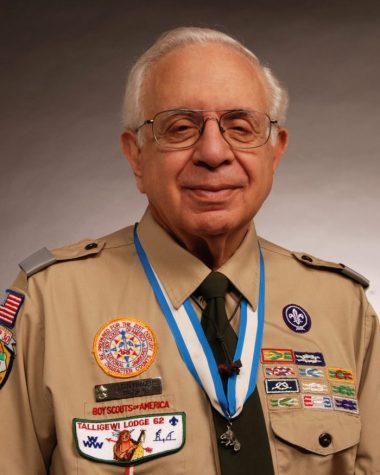 Dr. Stanley Frager, 82, a native of St. Louis, died Saturday, December 25, 2021 after a long illness.  
He is survived by his wife, the former Patty Wilson; daughter, Sarah; son, Alfred Joshua; sister, Maris Berg (the late Dr. Edward); uncle, Harry Samuels (Flora); sister-in-law, Leslie Wilson; brother-in-law, Gary Wilson; nephews, Danny Berg, Michael Berg, Chris Wilson and Andrew Wilson; niece, Sarah Porter; hundreds of adopted scouts; and a host of friends.
Dr. Stan was Professor Emeritus at the Kent School of Social Work, University of Louisville; a practicing Clinical Psychologist; Sports Psychologist; Radio Talk Show Host; Author; Professional Speaker; and Scoutmaster Emeritus, Troop 30, at The Temple synagogue in Louisville.
Stanley Frager was born in St. Louis on April 23, 1939, the son of Alfred Havram and Rose Samuel Frager. Dr. Frager grew up in University City and was a proud graduate of the University City High School class of 1957. 
As a youth, he was active in the Jewish Boy Scout Chapter Troop 90, where he earned the highest rank in Cub Scouts, the Arrow of Light. In 1954, he became an Eagle Scout, the highest rank in Boy Scouts.  After graduation from U. City in 1957, attended Washington University in St. Louis on a music scholarship and earned his Bachelor of Science and Bachelor of Arts degrees. He went on to receive his master's and P.h.D in psychology from the University of California in Los Angeles. 
While in Los Angeles obtaining his degrees, he served as a probation officer for nine  years, working at numerous camps for teenage boys. During his time there he filmed an award winning documentary entitled "How's School Enrique?" Dr. Frager won numerous film awards as a writer, producer, director, consultant and reviewer. Additionally, he worked at nightclubs across California as a jazz musician, playing the upright bass in a band called The Stan Frager Trio. 
In 1973, at the age of 34, Dr. Frager was diagnosed with Stage 4 Duke C colon cancer, which at the time had a very low survival rate. Dr. Frager defeated cancer, but it required the removal of most of his colon and surgery for a permanent colostomy. Despite this daily reminder of his struggle, he went on to live an active, high adventure lifestyle demonstrating to others how to avoid letting setbacks define them. This was the subject of his motivational book, "The Champion Within You."
Dr. Frager moved to Louisville in the early 1970s and established roots teaching at the University of Louisville Kent School, where he was a professor for over 35 years. He received numerous teaching and service awards. He also established the Dr. Stan Frager Community Service Award at the Kent School. He was an assistant coach for the baseball team, and the sports psychologist for numerous University of Louisville athletic teams, including the basketball, tennis, football, soccer, volleyball, swimming and golf teams. One of his most cherished achievements was being involved with the Louisville Cardinal's NCAA Basketball Championship team in 1986 as the team's sports psychologist.
Dr. Frager worked with the Armed Forces and consulted with their Command Leadership at Fort Campbell, Fort Knox, and later The Pentagon, concerning suicide prevention, domestic violence and Post-Traumatic Stress Disorder (PTSD). He was president of Frager Associates, a successful clinical psychology practice of over 30 years, where he supervised a clinical staff involved in all aspects of mental health.  Additionally, he was an executive coach and business consultant for CEOs, COOs, and leaders of hospitals, non-profit organizations, and other major industries.
Dr. Frager hosted a weekly three-hour radio show heard throughout the midwest for over 12 years where he invited listeners to call in and discuss their personal issues. He was a highly accomplished professional speaker providing presentations and speeches to Fortune 500 companies and national associations on topics such as motivation, problem solving, and overcoming adversity. Dr. Frager was a prolific writer, publishing multiple books, booklets, and other publications. He was a member of the famed Louisville Magic Club and he practiced as an amateur magician. He was the M.C. for a comedy quartet called Three Funny Guys.
Dr. Frager kept close ties with his many friends from University City, including Irl Solomon who recalls "Stan's role as a band leader whose jazz numbers provided the soundtrack of those days."  Ron Zetcher, U. City star athlete and legendary coach has "fond memories of Stan as "a talented musician and a true friend."
Dr. Frager was involved in and volunteered for many civic organizations related to public speaking, training and cancer assistance. He was a strong supporter of the Colon Cancer Prevention Project in Louisville. He was President of the Kentuckiana Chapter of the Ostomy Association. He was on the board of directors for the Kentucky chapter of the American Cancer Society and the Kentucky Speakers Association. Dr. Frager was also influential in the early days of Hospice in Louisville.
His true passion was with the Boy Scouts of America. Dr. Frager volunteered as the Scoutmaster of Troop 30 for over 20 years. Under his leadership, and with the help of dozens of men he recruited to pitch in, Troop 30 became one of the most successful troops in the nation by multiple measures such as number of youth impacted and number of Eagle Scouts obtained. At one point Troop 30 was the largest Jewish-sponsored troop in the country, with 125 scouts and 75 leaders of all backgrounds. His son Alfred was the 100th Eagle Scout under his leadership. Alfred and other members of Boy Scout Troop 30, spoke movingly at the funeral service on Dec, 29, at The Temple, where Rabbi David Ariel-Joel officiated. Burial was at The Temple Cemetery in Louisville. A recording of the service can be viewed online at www.youtube.com/watch?v=tTqgTx7FE8o.
Dr. Frager would always give back to the community any chance he could. He was a regular member of The Temple – Adath Israel B'rith Shalom, and for many years was the President of The Temple Brotherhood. He was a valued volunteer, friend, and mentor to thousands. He cared deeply about his friends, as well as anyone he would meet off the street. He would always want people to push themselves to do more of whatever they wanted to do. Somehow, he always found a way to help people uncover what they truly wanted, and then would get them to accomplish things they never thought possible.
In lieu of flowers, expressions of sympathy can be made to The Temple Brotherhood, 5101 US Hwy 42, Louisville, Ky., 40241 or to the Colon Cancer Prevention Project, 1640 Lyndon Farm Ct #108, Louisville, Ky.,  40223