Dr. Richard A. Freund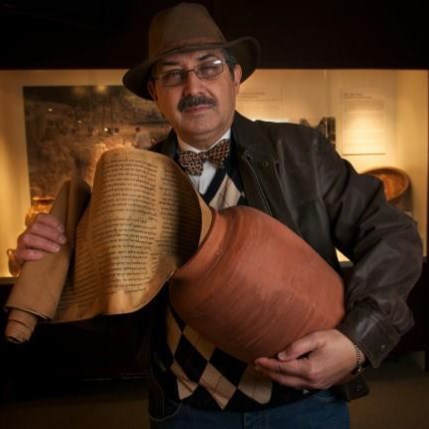 Dr. Richard A. Freund passed away peacefully on July 14, 2022, at the age of 67, in Charlottesville, Virginia. Born to the late Chester Freund and Beatrice Berkowitz in Long Island, NY, Richard lived in Franklin Square and graduated from Valley Stream North High School in 1972 at 17 years old.
Determined to learn more about Jewish history and culture, he booked a one-way ticket to Israel where he studied, learned Israeli dancing, and practiced what he excelled at-running.
He met the love of his life, Eliane, a decade later, in Israel, on a post-doctoral grant, and they got married in 1983. For nearly 40 years, Richard worked as a professor in Jewish history and archaeology, starting at Oberlin College and traveling to the University of Denver, the University of California-San Diego, the Seminario Rabinico Latinoamericano, the University of Nebraska at Omaha, the University of Hartford, and finally ended his career at Christopher Newport University in Virginia. Through his time in academia, he mentored thousands of students and collaborated with countless other faculty members from across the country in pursuit of answers to some of our history's greatest questions.
For some, teaching and writing would have been enough, but Richard lived the equivalent of three lives-pursuing the field of biblical archaeology and trying to solve humanity's greatest mysteries. He directed over a dozen archaeological projects at Bethsaida, Mary's Well in Nazareth, and climbed the caves of Qumran in search of the Dead Sea Scrolls, all in located in the State of Israel. Later in life, he traveled to Spain to discover the Lost City of Atlantis, which got him featured in a documentary produced by James Cameron. After that, he made key discoveries in the Ponar Burial Pits and the Great Synagogue of Vilna, Lithuania. In total, his work was featured in over 20 documentaries from National Geographic, Discovery, History Channel, and many others. His work was also chronicled in the New York Times, Time Magazine, BBC, MSNBC, and hundreds more news outlets. In one of the peak moments of his life, he presented St. Peter's key, found at Bethsaida, to Pope John Paul II in 2000.
In addition to his wife Eliane, he is survived by his three children, Eli, Ethan, and Yoni; his siblings and their spouses, Andrea and Richard Eisen, Charles and Renee Freund, and Sharon and Jody Rockmaker; his brother- and sister-in law, Arthur and Liz Goldgaber; his father- and mother-in law Alberto and Berta Goldgaber; his nieces and nephews, Rebecca, Hannah, Clifford, and Sam; and he is predeceased by nephews Josh and Glenn.
In lieu of flowers, donations may be made to Rodef Sholom Temple in Newport News, the Bertram and Gladys Aaron Professorship of Jewish Studies at Christopher Newport University, or the Dana-Farber Cancer Institute in Boston.