Bobbye Lois Craven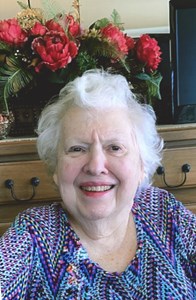 Bobbye Lois Craven, age 88, of Saint Louis, Missouri passed away on Sunday, July 24, 2022 in Saint Louis, Missouri. She was born in St. Louis, Missouri on May 6, 1934 to Wilbert and Ruth Levy (nee Busch).
Bobbye was an Office Manager for Dr. Steve Paul and Rick Schainker, DDS. She was married to Larry Craven for 64 years.
Bobbye loved bowling, the Muny and the Fabulous Fox Theater, the casino, Mahjong, and was a member of B'nai B'rith. She was an avid traveler and made friends wherever she went. Bobbye took great pride in her children, grandchildren and great-grandchildren.
Bobbye is survived by her Daughters, Candy L. (Steve) Schainker of Ames, IA; Carolyn B. Tessler of Overland Park, KS; and Carrie E. Craven of St. Louis, MO; Grandchildren, Kevin (Audrey) Schainker; Bryan (Kim) Schainker; Bradley (Becca) Tessler; Andrea (the late David) Bond; Aly Zuhler; and Morgan Zuhler; Great-Grandchildren, Charlie, Henry, and Maddy Schainker; Aidan Tessler; Mischa and Zander Gluckman; Sister, Joan (Stanley) Baker; Brother-in-Law, Howard (Rochelle) Rubin; she was a great aunt, cousin, and friend to many.
She was preceded in death by her Husband, Larry Sanford Craven; Father, Wilbert Levy; Mother, Ruth Levy; Sister, Margie Rubin; Sister-In-Law, Sandy Leventhal; and Brother-In-Law, Martin Craven.
Bobbye's memorial service will be held at Central Reform Congregation on Thursday, July 28th at 11:00 am. Private internment on Friday, July 29th at Jefferson Barracks National Cemetery. Please visit https://www.centralreform.org/memorial-service/ for Live Stream viewing.
Memorial donations may be made to the Alzheimer's Association at www.alz.org.