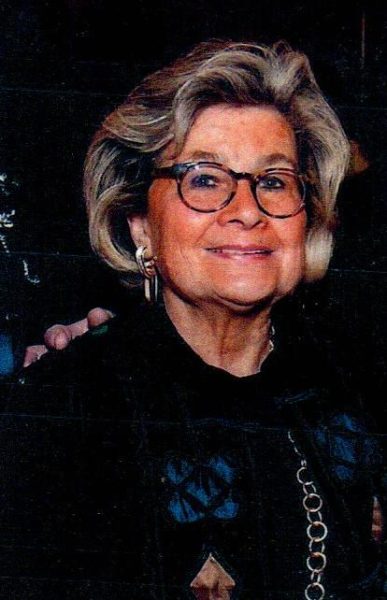 Barbara Bushman Goodman passed away on October 10th after suffering a severe stroke in April, she was 91 years old.
Barbara was born in Omaha Nebraska in 1932 to Esther Fox & William Bushman her family moved to Kansas City Missouri when Barbara was 6 years old to be closer to her maternal grandparents.
She attended the University of Missouri at Columbia and after graduation returned to Kansas City to design cards for The Hallmark Card Company. She then moved to St Louis Missouri to attend graduate school at Washington University.
Barbara had an insatiable curiosity and she was curious about everything and anything!
Barbara married and had two children, after getting divorced at an early age close friends Rosie & S. Lee Kling were very supportive of her. The late S. Lee Kling was a successful local business leader & national leader for the Democratic Party. Kling told Barbara that he had endless projects that she could help him with & she jumped at the opportunity.
Barbara was involved in doing everything from designing the annual reports for Landmark Banks to helping plan the Democratic National Convention & Jimmy Carter's Presidential Inauguration for Kling.
Kling eventually made Barbara the first woman to be on the board of directors of his Landmark Bankshares Banking Group. Kling also arranged for her to acquire a partnership interest in Altair Travel which she helped grow until she sold her interest after 30 years.
Barbara also enjoyed serving on the board of directors for many non-profits such as The Arts & Education Council of St Louis, The St Louis City Public Library, Camp Wyman, COCA-Center for Creative Arts as well as several other non-profit boards over the years.
She was charitable, she couldn't say no to someone or a cause that needed help!
Barbara is survived by her children Todd, Jill and her brother Stanley Bushman of Kansas City Missouri.
Her only regret was not staying in touch with old friends as much as she would have liked to, as she had not been feeling well the last few years.
The funeral was a private family-only service.
In lieu of flowers or donations, please do something kind for a friend or a stranger!
Visit www.bergermemorialchapel.com for more information.
BERGER MEMORIAL SERVICE