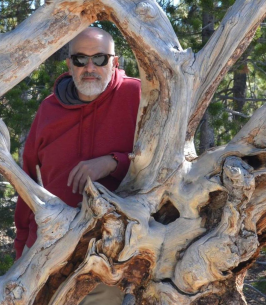 Alex Bornstein, September 22, 2023
Alex was born on August 27, 1950, in St. Louis, Missouri, to the late Ely and Dena Bornstein.
Alex was preceded in death by his beloved brother, Michael Burns Bornstein.
Alex is survived by his partner of many years, Susannah Fuchs; children: Andrew (Megan) Bornstein, Marion Bornstein, Douglas Fuchs, and Jonathan Fuchs; grandchildren: Eleanor Bornstein and Lillian Bornstein; sister Mindy (Alan) Berkowitz; nephews: Benjamin Avi Berkowitz (Emma Sham-Ba Ayalon) and Jacob Elior Berkowitz (Anya Liad).
Alex loved to swim. He also enjoyed listening to music and collecting stereo equipment. Alex was a talented gardener and loved chocolate, art, and photography. He was also a proud member of the 'Goofballs'.
For many years, Alex was a social worker and therapist. He also served as a board member for Earth Day International, Clayton Parks and Recreation Commission and Missouri Inventors Association. He was proud to be the founder of the EarthWays Home and Matrix Alternative High School, and author of Tao Te Teen.
Per his wishes, Alex was donated to Logan University in Chesterfield, Missouri to help the advancement of medicine and education.
All services for Alex will be private.
In lieu of flowers, the family asks you to consider making a donation in Alex's name to the EarthWays Center at the Missouri Botanical Garden in St. Louis, Missouri.