Adrienne Palan Gold
Published January 13, 2022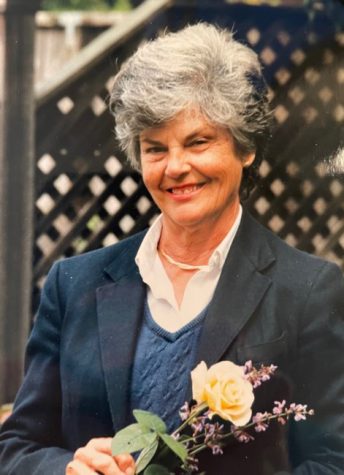 Adrienne Palan Gold was born July 17, 1920, in St. Louis, MO, and passed away on January 9, 2022, in Dallas, TX, at the age of 101.
Adrienne is predeceased by her husband, Oliver W Gold, who died in 1970. She is also predeceased by her parents, Robert Palan and Perl Palan, and her sister, Meryl Palan Levy.
Adrienne attended Demun Elementary School in Clayton, MO, and graduated Clayton High School in 1938. She attended Washington University, 1938 – 1941, majoring in interior design. She was honored to be Hatchet Queen of Washington University, October 1941. She married Oliver Wendell Gold in June 1942.
Adrienne has four children: Leslie Elizabeth Gold Conley, Wendy Ellen Gold Beren, John Steven Gold and Barbara Ann Gold. Adrienne has five grandchildren, Jason Conley, Sarah Conley Evans, Brandon Gold, Lauren Gold and Madison Gold, and four great-grandchildren, Elias Conley, Tallia Conley, Hunter Evans and Watson Evans. Her two nephews are Robert Levy and John Levy and several nieces and nephews on the Gold side: Larry, Laura Jane (deceased), and Lucky Gold, and Charles Tober (deceased) and Carol Tober (deceased).
Adrienne moved to Dallas, TX, in 1966. Adrienne had many friends in both St. Louis and Dallas with whom she played bridge and canasta. She participated in fundraisers for Jewish causes in dance routines. She was a lifelong avid reader, a pile of romance and mystery novels checked out from libraries was always nearby. Just on the Kindle alone, from 2015 to 2020, she read 451 books. They had to be put on an Excel spreadsheet just to keep up in order to prevent duplication, which did happen from time to time. She loved going to all her children's and grandchildren's athletic games. S he was their biggest fan and supporter. She also took exercise class with her friends, but she was really taking the exercise class to go out and have a nice lunch with the ladies after class. She was very close to her sister Meryl, or Aunt Moey, as Adrienne's children called her. They loved to shop and go to Vincent's every Sunday – except during Dallas Cowboys season.
Fond memories and expressions of sympathy may be shared at www.Sparkman-Hillcrest.com for the Gold family.