US State Department calls recent Roger Waters concert 'antisemitic'
Gabe Friedman, JTA
Published June 7, 2023
(JTA) — The U.S. State Department has condemned Roger Waters, calling the former Pink Floyd frontman's recent concert in Berlin "antisemitic."
A reporter asked at a press briefing on Monday whether the department agreed with recent comments from Deborah Lipstadt, the department's envoy for combatting antisemitism, who tweeted criticism of Waters.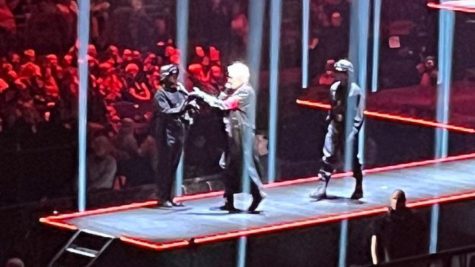 "The concert in question, which took place in Berlin, contained imagery that is deeply offensive to Jewish people and minimized the Holocaust," the department wrote in a response to the question on Tuesday, the Associated Press reported. "The artist in question has a long track record of using antisemitic tropes to denigrate Jewish people."
Waters is a leader in the call to culturally boycott Israel, often promoting the cause of the Boycott, Divestment and Sanctions movement, or BDS. Jewish leaders around the world have long said his harsh criticism of Israel's treatment of the Palestinians crosses the line into antisemitism.
Waters incorporates his Israel criticism and other political views into his live shows, which have in the past included a large pig-shaped balloon with images of dollar signs, the Star of David or the logo of an Israeli armaments firm. His stances have incurred blowback in the past, but on his current tour, he has enraged critics by juxtaposing the names of Holocaust victim Anne Frank and Shireen Abu Akleh, the Palestinian journalist killed in an Israeli military raid last year, on the screen at his performances.
The municipalities of Frankfurt and Munich unsuccessfully attempted to have Waters' concerts in their cities canceled. Groups of protesters, in some cases involving local Jewish leaders and politicians, have shown up outside his concert venues. At the Frankfurt show, one protester stormed the stage with an Israeli flag.
Since last month, German police have been investigating whether a costume that Waters has worn for years at concerts, which resembles a Nazi officer's uniform, constitutes Nazi glorification, which is outlawed in Germany.
Katharina von Schnurbein, the European Union's antisemitism envoy, who is German, tweeted late last month that she was "sick & disgusted by Roger Waters' obsession to belittle and trivialize the Shoah & the sarcastic way in which he delights in trampling on the victims, systematically murdered by the Nazis." Waters has in the past compared Israel to Nazi Germany.
Lipstadt replied, writing that she "wholeheartedly" agreed with von Schnurbein's take.
Waters had responded to the accusations about his costume, which includes a long black coat and a red armband, in a statement to social media.
"[T]he elements of my performance that have been questioned are quite clearly a statement in opposition to fascism, injustice, and bigotry in all its forms," he wrote.
—
The post US State Department calls recent Roger Waters concert 'antisemitic' appeared first on Jewish Telegraphic Agency.