Three popular humorists write a haggadah for the 'when do we eat?' crowd
Andrew Silow-Carroll
Published March 13, 2017
(JTA) — Of making many Passover haggadahs there is no end.
If the Maxwell House version doesn't cut it for you, there are haggadahs for vegans, for children, for chocolate lovers and even for Christians. There's the "Santa Cruz Haggadah" for hippies and the "New American Haggadah" for hipsters. There are annotated haggadahs for those who want to extend the seder into the wee hours, and the "30 Minute Seder Haggada" for those who want to eat, pray, and bolt.
Now three well-known American humorists have written a haggadah for an overlooked crowd: the wiseguys, cutups, and punsters who frankly have a hard time taking the whole thing seriously.
"For This We Left Egypt? A Passover Haggadah for Jews and Those Who Love Them" (Flatiron Books) is a collaboration of Dave Barry, whose syndicated Miami Herald humor column ran for over 20 years; Alan Zweibel, an original "Saturday Night Live" writer and co-creator of "It's Garry Shandling's Show"; and Adam Mansbach, the novelist who had a sleeper hit with his faux children's book, "Go the F*** to Sleep."
"For This We Left Egypt?" (henceforth known as "FTWLE") is the sort of book that includes Jerry Lewis as one of the Ten Plagues, that wonders why slaves escaping Egypt would run directly toward a body of water, and that suggests Jews are told to eat the bitter herbs known as maror "to remind ourselves that we never, ever again as a people, want to be in a position where we have to eat freaking maror."
For all the jokes, however (and it is pretty much all jokes), the book follows the basic steps of an actual seder and includes some prayers in their original Hebrew. It's even printed from right to left. If you were to discard the jokes, you'd be left with a fairly faithful framework of an actual haggadah, albeit six pages long.
At a panel discussion last week at the New York Public Library featuring the three authors, Barry said they hoped that some readers would actually use their parody haggadah at a seder. In the first place, it would mean selling more books. And in the second place — well, he didn't mention a second place.
Barry had previously collaborated with Zweibel on the 2012 novel "Lunatics." Mansbach and Zweibel wrote the 2015 kids' book "Benjamin Franklin: Huge Pain in My. . . ." The three met up a few years ago at the Miami Book Fair and, at Mansbach's suggestion, started an email chain that ended up as "FTWLE."
Zweibel, who grew up as a member of Congregation Sons of Israel in Woodmere, New York, had previously assured himself a place in Jewish Humor Heaven when he suggested to fellow SNL writers Al Franken and Tom Davis the idea for the "Royal Deluxe II" commercial parody. In that 1977 skit, a rabbi tests a smooth-riding luxury car by circumcising a baby in the back seat. Mansbach described his own 2009 novel  "The End of the Jews" as a book about the "complexities of a Jewish identity — the fact that you can feel culturally Jewish without being religious, or understand yourself ethnically as Jewish but not be down with the dominant politics of Jewish life, and so on."
Which might seem to leave Barry, an Episcopalian, as the odd man out in this trio, except that he and his Jewish wife belong to a Reform temple in Miami and he served as sandek — honorary baby holder — at his grandson's brit milah.
Barry recalled the family seders where his father-in-law and family patriarch, a Cuban Jewish immigrant named Harry Kaufman, liked to recite the complete haggadah in at least three languages. The other guests tried to trick Harry into "skipping huge chunks of it and then pretend he fell asleep."
Looking back on those marathons, Barry said, "No wonder this religion is in trouble."
In fact, the target audience for "FTWLE" are those who approach the annual seder as a bit of an ordeal — an endurance test of biblical storytelling standing between them and their meal. A 2013 Pew survey of American Jews found that attending a seder is the most commonly observed Jewish practice, but it didn't seem to ask if anyone is actually enjoying the proceedings.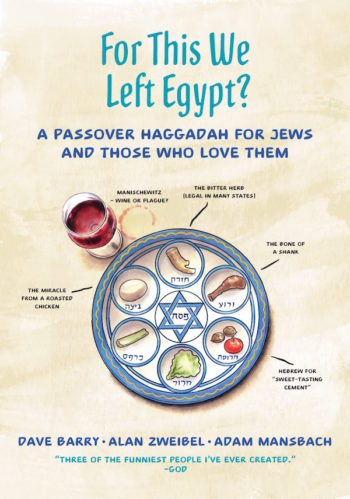 In recent years, there's been a slew of haggadahs meant to enliven the typical seder, with discussion questions for the adults and games to distract — I mean engage — the kids. Those efforts come in for ribbing in the "FTWLE" as well. Following the section on the Four Sons, one of a series of "discussion questions" asks, "Vito 'The G-dfather' Corleone had four children: Sonny, Fredo, Michael, and Connie. At Corleone family Seders, who do you think asked each of the four questions, and why?"
(Yes, "FTWLE" follows traditional Jewish practice by spelling the Almighty's name as "G-d," as in "Then G-d spoke from inside the cloud. At least he said he was G-d; there was no way to tell for sure because of the cloud.")
(And weirdly enough, it doesn't have a parody of the Four Questions. Why is this haggadah parody different from all other haggadah parodies — of which there are examples, according to Yiddish scholar Eddy Portnoy, as far back as the 13th century?)
I'm a product of the "seders don't have to be boring" generation, and at our table keep a stack of modern commentaries and supplements on hand to keep the evening lively. This year, I'll add "FTWLE" for the times when things begin to flag. And I'll toss out questions from it like this one: "How come the Angel of Death needed lamb's blood to know which houses the Israelites lived in? You'd think that would be the kind of thing the Angel of Death would just know, right?"
For a parody haggadah, that's a seriously good question.