They helped build Israel's first baseball field. Now their son is pitching at the Olympics.
Debra Nussbaum Cohen
Published July 28, 2021
This article originally appeared at forward.com. Reposted with permission.
The cheering from Kibbutz Gezer is going to be so loud that Alon Leichman may hear it as he takes to the mound in Tokyo as a pitcher for Team Israel's baseball team.
That's because his proud parents – David Leichman and Rabbi Miri Gold – will be shouting and clapping along with other family and neighbors on the kibbutz, which lies midway between Jerusalem and Tel Aviv.
---
Connect with your community every morning.
---
David Leichman is in many ways responsible for his son's career as a pitcher, even though he himself has never played baseball (softball is his game). The elder Leichman built Gezer's baseball field, which was the first in Israel, in 1983.
Both he and Gold had emigrated from the U.S. to Israel in 1976, as part of an early group building Kibbutz Gezer. ​​David grew up in Queens, and Gold in a suburb of Detroit.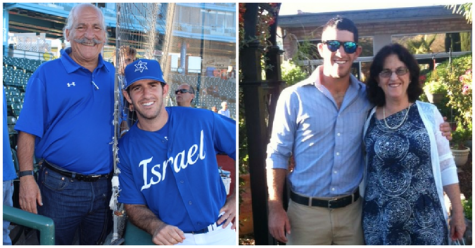 Leichman was charged with constructing new buildings on the nascent kibbutz. The Jewish educator, who had earlier worked as a representative of Israel's government in Boston, started a league with a bunch of American expats. They included journalists based in Tel Aviv and diplomats from the American embassy – when they had their baseball diamond a few years later, the American ambassador at the time threw out the first pitch.
Founding Gezer member, the late journalist David Twersky, put an ad in the The Jerusalem Post – the only English-language Israeli newspaper at the time – which read "Joe Dimaggio, where are you? Anyone who thinks they can put together a team come meet."
And, like in Kevin Costner's diamond in "Field of Dreams," they showed up.
"We started with some journalists who called themselves the Tel Aviv Typos, who were from the Chicago Tribune and The New York Times. Then we started to put together a league," recalled Leichman in a video interview with the Forward.
At first they gathered to play in whatever empty corner of the kibbutz they could find. Then Leichman decided to petition the kibbutz leaders for permission to build a proper baseball diamond. It was a major project, requiring that fields of cotton and corn be cleared, sod procured, laid down and manicured. He was met with hesitation. But once he explained that the baseball field was more for the kibbutz's children than adults, the leaders agreed.
Leichman raised $20,000 from American donors to cover expenses.
"Baseball wasn't strange to any of us," recalled Gold, who is retired from her position as rabbi of the kibbutz's synagogue. She was ordained in 1999 by the Reform movement's Hebrew Union College in Jerusalem, becoming the denomination's third woman ordained in Israel, and gained national attention when she became the test case in a winning lawsuit by the Israel Movement for Reform and Progressive Judaism to require the government to pay the salaries of non-Orthodox rabbis as it has always paid the salaries of Orthodox rabbis. In addition to running services and preparing bar and bat mitzvah students, she and her husband ran Jewish study classes at nearby Ramle Prison.
The baseball diamond's creation, Gold said, was a group effort. "Many of us helped lay sod in the field, felt invested in the field," she said. It looks out on Tel Gezer, she noted, which is an archeological site associated with the Bible's Joshua and King Solomon. A 1992 New York Times article about it dubbed the field "King Solomon's Nines."
VCR tapes of Derek Jeter sparked an interest in the sport
Their son Alon is the youngest of their three children. The older two live on the kibbutz. Though Alon is spending seven months a year working in baseball in the U.S., and about five months in Israel, "he really wants to be here and put down money to build a house" on the kibbutz, said Leichman.
"He started enjoying baseball at three or four years old," said his father. "By the time he was six he was on the field regularly." When he was seven, he became a huge fan of former Yankee shortstop Derek Jeter, after watching games on the VCR tapes his grandfather would send from the U.S.
At age 10, Alon played in a European competition as part of Israel's national baseball league. According to a website devoted to Israeli baseball, Leichman played for the Israel Baseball League (now defunct) in 2007, with the champions from Beit Shemesh. At age 17 he participated in a Major League Baseball academy in Italy – the first Israeli to do so, according to Gold – and then played with the Prague Eagles in 2009-2010. After serving three years in the Israel Defense Forces, he was chosen as a special status soldier, which gave him 90 days a year to work on his athletic skills. He attended Cypress College in California, then transferred to University of California San Diego, where he was their starting pitcher and graduated in 2016.
The fall following college, he played in a Mexican league as well as in the Israel Association of Baseball for the Tel Aviv Comrades Premier League team. He also coached the Cape Cod Baseball League, a summer league for collegiate players. Alon also coached Team Israel at the 2017 World Baseball Classic in South Korea and Japan. Alon pitched for Israel at the Olympic qualification tournament in Italy in September 2019, which Israel won to qualify to play baseball at the Summer Olympics in Tokyo.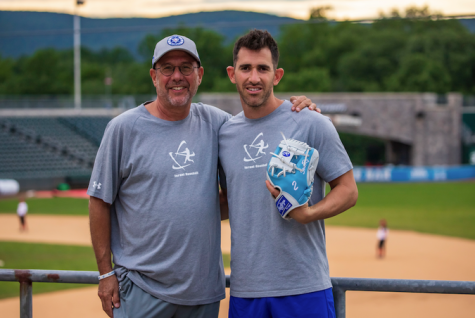 'If he's pitching, I get nervous'
Following elbow injuries and surgeries, Leichman realized he would not be able to become a Major League Baseball pitcher, so he transitioned to coaching.
"I told him he could change lives by being a coach and that's what he does. He's moved up quite rapidly from the very bottom of the minor leagues and may be in the big leagues in the next couple of years," said his proud father. "He's very committed and has a high baseball IQ."
In a Zoom interview, David Leichman's skin was brown as a walnut from the daily speedwalks he takes around the area, totaling 40 miles a week. "I have played softball for 61 consecutive years."
Alon coaches for the Seattle Mariners' AA minor league team, which allowed him to take time off to travel to the Olympics, where he has been reinstated as a player.
Even before the Olympics forbade spectators, the Leichman-Gold family wasn't planning to attend in person. "We knew it was exorbitantly expensive and knew we couldn't go. It will be on TV here," said Gold. "If he's pitching, I get nervous," she confessed.
Watching their son play in Tokyo, which is six hours ahead of Israel time, will be a nice change for his father. "I watched his college games, his Cape Cod games and it was always in the middle of the night here." While watching the games, Leichman makes ice cream, for which he's become somewhat of a local celebrity. He creates his own ice cream, has written books about it and offers tastings at the kibbutz of flavors including Samir Tahini and Santa Rosa Plum.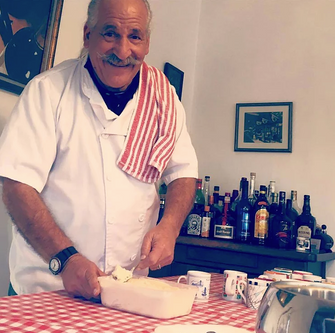 Their son Alon has become something of a role model for other kids on the kibbutz.
"Today there are about 1,000 kids and young adults playing baseball in Israel. There are a lot of people who don't know the game. Israelis are used to soccer and basketball," Gold told the Forward.
The first game for Team Israel baseball will be against Korea, on July 29th. The following day, the team will face the U.S.
Lots of family members went to see the exhibition games Team Israel played up and down the East Coast, before the players left for Tokyo.
There will also be constant texting on the several WhatsApp groups the Leichman-Golds have with various family members. Whatever happens for Alon and Team Israel, everyone will know almost instantaneously, said Gold. "News travels fast."
When it comes to the Olympics, said Gold, "all of the kibbutz and anyone who plays baseball in Israel will be watching."