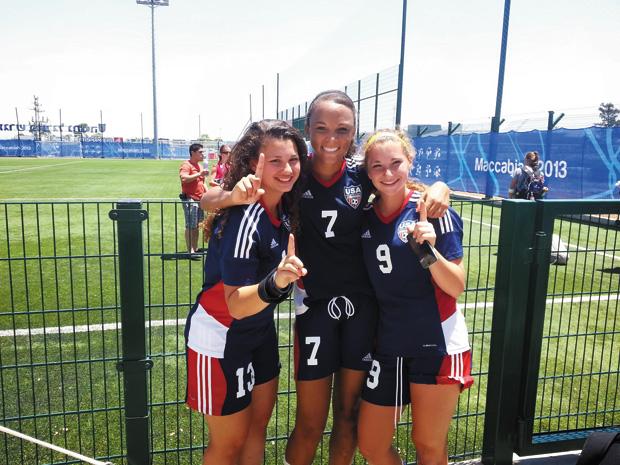 It was medals all around for the three St. Louis area athletes who competed in this year's 19th Maccabiah Games in Tel Aviv. Shelby Hummel, 17, of Chesterfield captured four medals in track and field events, three of them gold; Sarina Dayan, 15, of Kirkwood, played defense on the gold medal U.S. junior girls soccer team, and Martin Rubin, 18, of Chesterfield, was captain of the silver medal U.S. Junior Ice Hockey Team. The team lost in the championship game to Canada 3-2.
Approximately 9,500 athletes representing a total of 77 countries competed at this year's games, which ended last week. They take place in Israel every four years. 
Interestingly Shelby almost wasn't going to compete at all. Literally at the eleventh hour, a day before she and her family were leaving on a Hawaiian vacation, she learned there was a place for her on the U.S. track team.
"She competed in the U.S. games a year ago in Memphis, winning 11 medals, nine gold," explained Shelby's father, Dennis Hummel. "When she won so many medals in Memphis, it was suggested she submit an application for this year's games in Israel. But in February we got notice that they would not be able to use her."
So the Hummels went ahead and made summer vacation plans for a trip to Maui in June. "The day before we left for vacation, on June 7, we got a letter from the president of the U.S. Maccabiah Games delegation that there was a place for Shelby." 
She was on the U.S. Track and Field Team (17 and under age group division) and won gold medals in the 800-meter, 1,500-meter and 3,000-meter races and a bronze medal in the 4×400 meter relay.
"She actually smashed her personal best time in the 1,500, shaving off 12 seconds," said Dennis Hummel. 
Shelby will be a senior at Marquette High School where she runs cross-country and track and field. She represented her school at the Missouri High School State Championships this year in both sports. She is a member of United Hebrew Congregation.
Sarina, who will be a sophomore at Kirkwood High School, went to a Jewish summer camp in North Carolina where the soccer coach there also coached the junior girls U.S. soccer team in the last Maccabiah Games in Israel. "The coach told me when I was old enough, I should consider trying out for the team," said Sarina. "So my mom did some research, and we flew to Santa Monica for the tryouts. I would up making the team."
Sarina, who plays for Kirkwood's girls varsity soccer team, said the best part of her four-week experience in Israel was making so many new friends and meeting so many Jewish people from all over the world. She also said winning gold was indeed a highlight, as was the celebration that ensued.
"We beat the Israeli team to win the Gold," said Sarina, who attends Congregation Shaare Emeth. "No one scored on us during the whole tournament."
Rubin, who graduated in May from a prep school in Connecticut, is taking a gap year this fall to play Junior A hockey for the Connecticut Yankees in Stamford, Conn. "This is the next step in pursuing his goal to play Division 1 college hockey," said his father, Bob Rubin. The family attends United Hebrew Congregation. 
St. Louis' delegation to the games also included Dr. Brian Laiderman, a chiropractic physician who lives in O'Fallon and attends United Hebrew. He served on the medical staff for Team USA. Before departing for the games, Laiderman told the Light he was looking forward to the opportunity to "give back to the whole Jewish community as opposed to just my synagogue or the J."
Beyond the games
Shelby, who has a twin sister named Morgan, says her experience "was something I could only imagine in my dreams." She explained that she spent the first of three weeks in Israel touring the country with other athletes, and was especially enamored with her visit to the Western Wall.
"We got to learn about our history and our past and get more connected with Judaism. That in itself was special and eye-opening for me," said Shelby. "As the games started, I felt a real sense of pride for my country wearing my U.S. jersey and so proud to be able to compete.
Shelby also said she was "absolutely shocked at her results" because she wasn't really training for track and field. "My focus this summer was mainly about training for cross country this fall, and doing well for my school team," she said.
After returning from Israel late last week, Shelby and her family went out to a special dinner to celebrate her accomplishments as well as her brother's 19th birthday. What she was looking less forward to, she said, was getting her wisdom teeth pulled this week.