Sacha Baron Cohen's next victim: Roy Moore
Ron Kampeas
Published July 30, 2018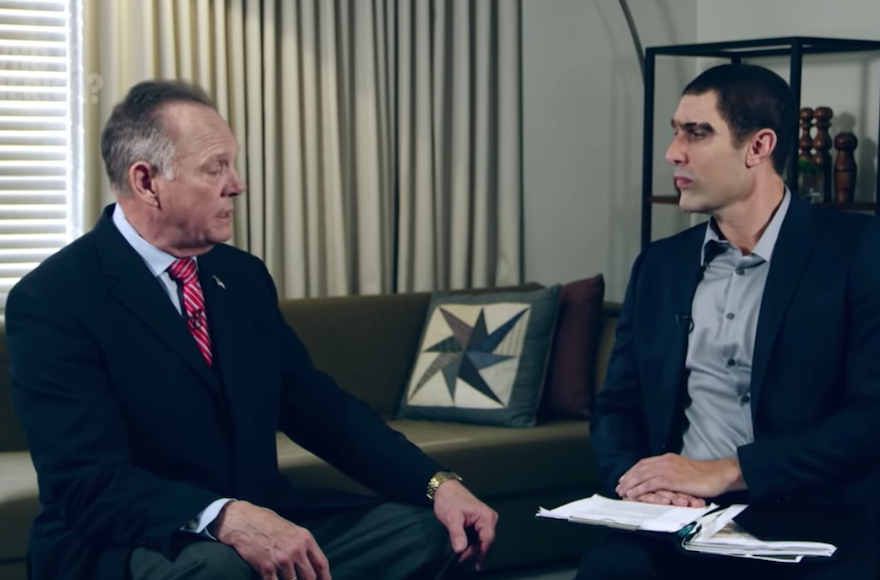 [embedded content]
(JTA) — There have been two types of reactions by the famous and not so famous to being punked by Sacha Baron Cohen on his "Showtime" series "Who is America?": outrage or self-deprecating good humor.
Roy Moore, the Republican whose bid for the Senate failed last year, was definitely in the "outraged" category.
"As an Alabamian, I believe in truth and honesty, which the shadowy media groups behind this illicit scheme do not," Moore said in a Facebook post on July 12 describing the recording by Cohen's team in January. He said he may sue.
Now we know why: On the third episode, which was broadcast Sunday night, Cohen delved into allegations that Moore decades ago sexually harassed and assaulted multiple women, including some who were minors.
Cohen, in his guise as Israeli terrorism expert Erran Morad, gives Moore a prize for his support of Israel.
(Morad is the persona that Cohen is using to reel in conservatives who profess affection for Israel: On the first episode, unsuspecting Republicans endorsed gun rights for 3-year-olds, falling for the false premise that arming toddlers with submachine guns is commonplace in Israel. On last week's episode, Morad got a Georgia state lawmaker to bare his buttocks to repel terrorists. The lawmaker has resigned.)
Morad shows an impressed Moore the latest in Israeli terrorism technology: a wand that detects Hamas tunnels.
"They have now used this technology to identify other abnormalities," the Cohen character says. "It turns out that sex offenders and particularly pedophiles secrete an enzyme 4 DDHD which is actually detectable. It is three times the level of non-perverts."
Naturally, the wand "beeps" when Morad waves it near Moore, who appears to grow increasingly tense.
Morad insists the device must be faulty and keeps testing it, including on an assistant, "Hezy," and says he does not consider Moore a pedophile.
Moore is so upset that when he speaks, his sentences are just shy of coherent.
"I've been married 33," he says. "If this is an instrument, then I am not a pedophile."
"I never had an accusation of such things," he says in the segment, which was taped just weeks after accusations of such things felled his campaign.
It's not clear that Moore entirely grasps what's going on. He leaves, but also makes sure to shake hands with Morad.
"Maybe Israeli technology hasn't developed properly," he says. "I support Israel. I don't support this kind of stuff."