Obama and Cameron send Rosh Hashanah greetings
Marcy Oster
Published September 13, 2015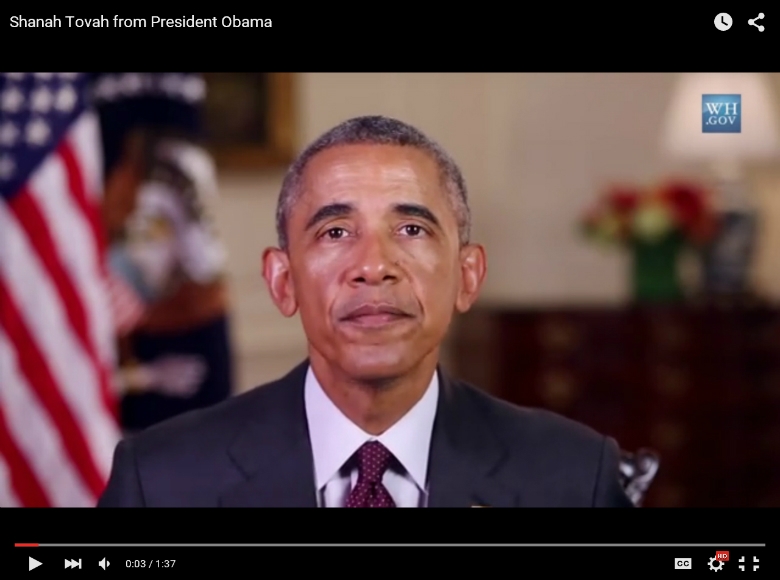 (JTA) — Israeli and world leaders issued Rosh Hashanah greetings in advance of the holiday.
"Chag Sameach everyone," President Barack Obama said in a videotaped greeting broadcast on YouTube.
On the Jewish High Holiday of Rosh Hashanah, we "recognize our tremendous power to make a difference, in our lives and the world," he said. "Faith is hard, hope is hard, peace is hard."
In a video message released Sunday, Israeli Prime Minister Benjamin Netanyahu wished a "Shanah tovah to all of you from our eternal capital Jerusalem.
[embedded content]
"Since last Rosh Hashanah, it has become obvious to all but the most bigoted and prejudice that Israel stands out like a beacon of progress, modernity, deomocracy and human rights in a region dominated by fanaticisn, by terror, by unbelieveable savagery," Netanyahu said.
"We are united, proud in our past, confident in our future," he said of the Israeli people.
Israeli President Reuven Rivlin said in a message released late last week that the new year is "time for soul searching and prayer."
"Israel faces many challenges both internally and externally; social challenges, economic challenges and, of course, security challenges," Rivlin said. "Challenges which we can and will overcome — as we have done many times before. To do so however, we must work internally to strengthen the bonds between us, between the different communities that make up the Israeli people, and between our brothers and sisters, friends and supporters of Israel around the world."
British Prime Minister David Cameron in a video message published Sunday on YouTube noted British Jewry's "immeasurable contribution to all areas of British life."
[embedded content]
"As Jewish communities unite in prayer across the world, thoughts will turn to the tragic loss of life that we have seen following a number of horrific and abhorrent anti-Semitic attacks over the past year," he said.
"Jewish communities must not be left to live in fear. As prime minister, I will do everything I can to stamp out such hatred now and in the future."
This entry passed through the Full-Text RSS service – if this is your content and you're reading it on someone else's site, please read the FAQ at fivefilters.org/content-only/faq.php#publishers.