Nancy Pelosi calls on Ilhan Omar to 'immediately apologize' for 'anti-Semitic' comments
BY RON KAMPEAS
Published February 11, 2019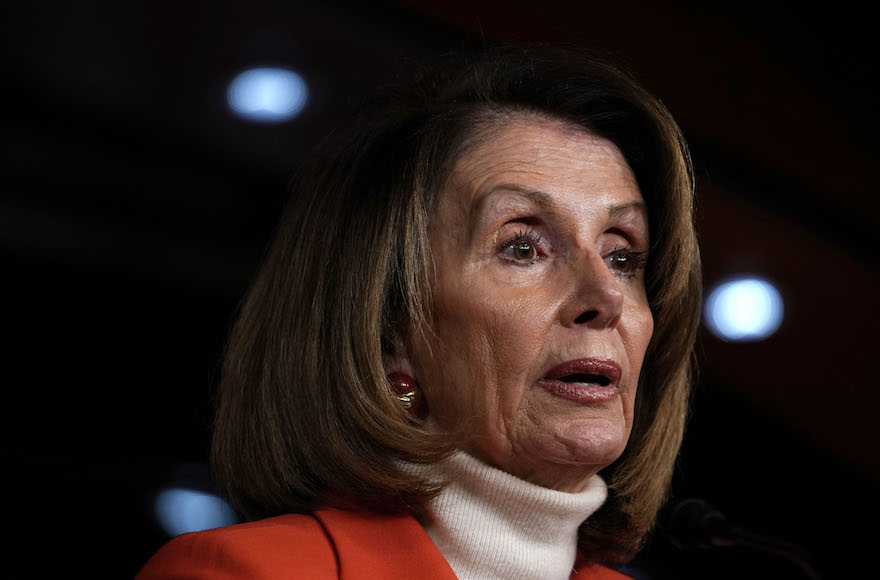 Nancy Pelosi speaks during a weekly news conference on Capitol Hill, Nov. 15, 2018. A small group of Democratic representatives have come out against her campaign to be speaker of the House. (Alex Wong/Getty Images)
WASHINGTON (JTA) — House Speaker Nancy Pelosi called on Rep. Ilhan Omar, D-Minn., to "immediately apologize" for remarks that Pelosi called anti-Semitic.
"Congresswoman Omar's use of anti-Semitic tropes and prejudicial accusations about Israel's supporters is deeply offensive," Pelosi, D-Calif., said in a statement Monday a day after Omar said on Twitter that the American Israel Public Affairs Committee buys the support of lawmakers. "We condemn these remarks and we call upon Congresswoman Omar to immediately apologize for these hurtful comments."
Pelosi said on Twitter that she had spoken with Omar. "Congresswoman Omar and I agreed that we must use this moment to move forward as we reject anti-Semitism in all forms," Pelosi said.
The statement did not say whether Pelosi would take action against Omar if she did not apologize.
A number of leading Jewish Democrats also called out Omar for her comments.
Republicans, who stripped Rep. Steve King, R-Iowa, of his committee assignments after he questioned why white supremacy was a taboo, have called on Pelosi to take action against Omar. Omar, who started her first term in January, is on the House Foreign Affairs Committee. The Somali-American lawmaker has said she supports the Boycott, Divestment and Sanctions movement targeting Israel.