Jew shaming Christian nationalist pastor appears in DeSantis campaign ad
By Jacob Kornbluh, The Forward
Published September 19, 2022
Florida Gov. Ron DeSantis, in a television ad for his reelection bid, featured a controversial pastor who shamed Jews for not converting to Christianity.
In the ad, titled "Results," Pastor Larry Jinks of First Baptist Church of St. James City, Florida, praises DeSantis for protecting the right of religious congregations "to worship together, in person," during the pandemic. Jinks has a history of inflammatory rhetoric, including saying it's a "shame" Jews rejected Jesus as their own messiah.
"It's a shame that the Jews, who should know better, reject their own Messiah (who fulfilled everyone of their prophecies) still believe that they need sacrifices and the Temple to sacrifice them in," Jinks wrote on Facebook in April. "Nonetheless, because of their rejection they will move forward with that plan." The statement was made in response to a Jerusalem Post op-ed about rebuilding the Temple.
Jinks also criticized the pope for advocating for unity between Jews, Christians and Muslims. "We are called to be at odds with any religion that does not acknowledge Jesus as the Prince of Peace and the only way to the Father," he added.
In a follow-up comment, Jinks wrote, "I wonder how long it will take for me to be in Facebook jail over these comments?"
The 60-second commercial started airing nationwide on Sept. 6. Jinks confirmed that he was approached by the DeSantis campaign to appear in the video. "I was honored to do so," Jinks wrote on Facebook. "I was happy as a Christian to do it," he told the Pine Island Eagle.
Jinks also referred to Washington politicians as "bloodsucking parasites" who seek "money, power and prestige," in a sermon last year discussing the 2020 election.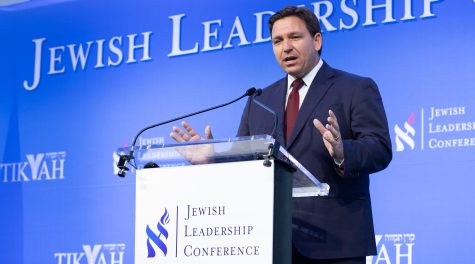 Florida Democrats criticized the incumbent Republican for "embracing antisemites" to boost his political career. "DeSantis must take this ad down and issue a condemnation of this antisemitism immediately," said Kobie Christian, a spokesperson for the Florida Democratic Party.
The DeSantis campaign did not immediately respond to a request for comment.
Recent polls give DeSantis a 5-point lead over Charlie Crist, the Democratic nominee who switched parties after serving as governor to run for Congress.
DeSantis, who is also being discussed as a potential presidential candidate in 2024, recently stumped for Doug Mastriano, the GOP nominee for Pennsylvania governor, who has embraced Christian nationalists, and spouts antisemitic dog whistles on the campaign trail.
Invoking George Soros, the Democratic funder and Holocaust survivor, DeSantis last month suspended state attorney Andrew Warren and mocked him as a "Soros-backed state attorney" over his refusal to prosecute charges related to abortion and gender affirming care for minors.