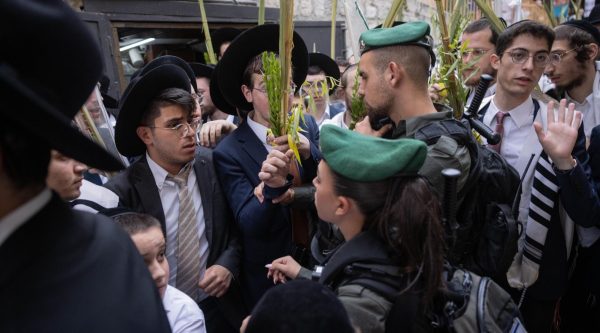 (JTA) — Israeli Police arrested five Jews who allegedly spit at Christian pilgrims, and Prime Minister Benjamin Netanyahu pledged to show "zero tolerance" for assailants, as Christian leaders in Israel called for more action to combat a spate of attacks on their community.
The five suspects who were arrested are accused of perpetrating spitting incidents on Monday and Wednesday. The attacks are two of several that have occurred in Jerusalem's Old City, according to Haaretz, which caught the Monday incident on video.
In the video, the pilgrims were bearing a wooden cross while following a recreation of Jesus's path through the city before his crucifixion. The spitters were in a crowd of Jews wearing prayer shawls and carrying a collection of four species of plants used ritually during the weeklong holiday of Sukkot, which began on Friday evening.
The arrests came after Netanyahu condemned the attacks. "Israel is fully committed to safeguarding the sacred right of freedom of worship and pilgrimage to the holy sites of all faiths," the prime minister said in a statement released Tuesday.
"I strongly condemn any attempt to inflict harm on worshippers, and we will take urgent steps against such actions," he said. "Offensive behavior toward worshippers is a desecration and is unacceptable. We will show zero tolerance toward any harm to worshippers."
The Haaretz video spurred a new round of attention on the attacks, which experts on interfaith relations in Jerusalem say are frequent and intensify during holidays. The incidents are also the latest in a string of dozens of attacks on Christians across Israel this year, ranging from the toppling of a statue of Jesus to vandalism of a Protestant cemetery to clashes between Christians and Jews at a monastery in Haifa.
Cardinal Pierbattista Pizzaballa, the Latin patriarch of Jerusalem, said at a press conference last month that attacks on pilgrims in the Old City have "become more common," according to Haaretz. He added, "There's no doubt that there are rabbis who approve or even encourage it."
Israeli Religious Affairs Minister Michael Malkieli disputed that Jewish religious authorities condoned the spitting attacks, saying in a statement that he "forcefully condemns the phenomenon of spitting at Christians in Jerusalem. This is not the way of Torah, and there's no rabbi who supports and legitimizes such vile behavior. We must denounce it, and continue to respect all of the peoples who enter the gates of the holy city."
But though he also condemned the spitting, Israel's far-right national security minister, Itamar Ben-Gvir, suggested that the perpetrators need not be arrested. And Elisha Yered, a former aide to another far-right lawmaker, posted to social media on Monday, "This is a good time to recall that the custom of spitting next to priests or churches is an ancient, longstanding Jewish custom."
—
The post Israeli police arrest 5 Jews for allegedly spitting on Christian pilgrims amid spate of attacks appeared first on Jewish Telegraphic Agency.