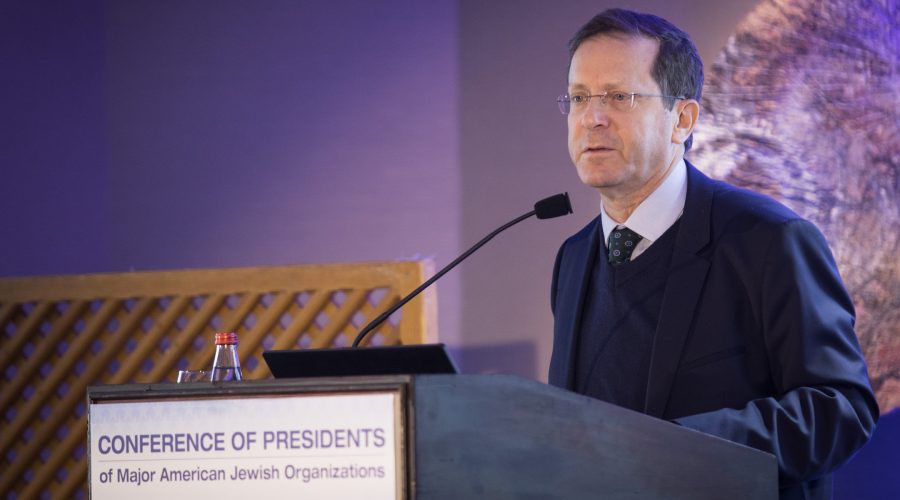 Flash90
(JTA) — Isaac Herzog, who most recently ran the Jewish Agency for Israel, will be Israel's next president, lawmakers there decided Wednesday.
Herzog overwhelmingly defeated Miriam Peretz, an acclaimed educator, to be elected to the largely ceremonial role by members of the Knesset, Israel's parliament. His seven-year term will begin July 9.
Herzog is the son of Chaim Herzog, who served as Israel's sixth president from 1983 to 1993, and the grandfather of Israel's first Ashkenazi chief rabbi. An attorney who attended high school and college in the United States, he has served in the Knesset and as leader of the Labor Party, Israel's once-dominant liberal party. (In that role, he once consoled his American counterpart, U.S. House Speaker Nancy Pelosi, distraught over having to work with a president she despised, with an Israeli poem.)
Since 2018, Herzog has led the Jewish Agency, which works to connect Israel with Jews around the world and support immigration to Israel.
Praise for Herzog's election poured in from across the Jewish world Wednesday morning, much of it citing his lineage and experience with Jewish communities outside Israel.
"We are looking forward to continue the dialogue of Israel Diaspora relations and the unity of the Jewish people," said Pinchas Goldschmidt, chief rabbi of Moscow and president of the Conference of European Rabbis, in a statement. "As the son of the late President of Israel, Haim Herzog, and as a seasoned diplomat and political leader, we hope and pray that he will carry the message of unity for the Israeli and Jewish people."
"Bougie is a dear friend and an honorary New Yorker," said Eric Goldstein, CEO of UJA-Federation New York, in a statement using Herzog's widely used nickname. "Since his time as a student at a Jewish day school in Manhattan, he has maintained deep connections to New York, home to the largest Jewish community outside Israel. With his years of experience in Knesset and profound understanding of global Jewry, Bougie is uniquely positioned to fulfill his role as president of the State of Israel, and more broadly as convener of the entire Jewish people."
Among the roles of Israel's president is to boost the morale of Israelis and Jews around the world. Last year, the outgoing president, Reuven Rivlin, pushed back against Holocaust revisionism in Europe and apologized to Israelis for a devastating resurgence of COVID-19 there.
One of the few formal responsibilities of Israel's president is to select the next prime minister. Whether Herzog gets to do that early in his term will depend on whether an effort to pull together a coalition government right now is successful. A deadline to form a government expires later on Wednesday.
The post Isaac Herzog, longtime booster of Israel-Diaspora ties, to be Israel's next president appeared first on Jewish Telegraphic Agency.