Is human composting the next big thing in Jewish death practice?
MAYA MIRSKY , In partnership with the "J" of Northern California
Published January 24, 2023
This article first appeared in J. The Jewish News of Northern California
"There was no squeamishness on my part, I didn't wear gloves," said Adam Gottstein. "I had Mom in the palms of my hands."
The Amador County resident was placing the composted remains of his beloved mother, Ruth Gottstein, into the earth. Her body had been turned into nutrient-rich, nontoxic compost using the relatively new — yet in a way, timeless — practice of human composting.
On Sept. 18, Gov. Gavin Newsom signed a bill that will legalize human composting in California in 2027, making it the fifth state to sign off on a technology favored as a newer, greener alternative to other practices — and one that may upend the funeral industry.
Human composting was legalized in 2020 in Washington state. Colorado, Oregon and Vermont followed; after California New York became the sixth state to legalize it.
But for Jews, the implications are just being discussed. Will the green credentials of human composting catch on with climate-concerned, progressive Bay Area residents? Or will Jewish traditions around respecting the integrity of the body make it taboo?
"I'll be surprised if there aren't two opinions: 'yes' and 'no,'" said Sam Salkin, executive director of Sinai Memorial Chapel, the Jewish funeral home in San Francisco.
In human composting, the body is placed in a container along with plant materials, such as wood chips, alfalfa, straw or other plants. As bacteria break down tissue, the body decomposes as it would in the ground, but at a quicker rate due to high oxygen flow. Eventually, after cooling, what's left is the same kind of organic matter that results from any other kind of composting.
Proponents say cremation, seen by many as a green alternative to burial, creates greenhouse gases that contribute to climate change, while the end result of human composting brings a small amount of nutrients back to the soil.
According to Reuters, cremation adds 6.8 million metric tons of carbon dioxide to the planet every year. However, that's only 0.02 percent of total annual carbon dioxide emissions. (For comparison, in 2021 California estimated per capita greenhouse gas emissions at 10.5 metric tons per person.)
It's arguably greener than cremation. But is it Jewish enough?
That depends on how one interprets kavod hamet, the directive to honor the dead, which requires keeping the body intact before and after burial. That is what makes cremation absolutely "forbidden" from an Orthodox point of view, said Rabbi Joel Landau of San Francisco's Adath Israel. Cremation harms the body, which is a gift from God.
"From a traditional perspective, our bodies are on loan to us from God," he said.
Even the official Reform movement, which has been more accepting of cremation as it has become a popular option, says "it ought to be discouraged if possible, especially in our generation which has seen the murderous dispatch of millions of our people by way of crematoria."
While cremation often evokes chilling parallels with the Holocaust, human composting and burial both result in decomposition of the body. How does a rabbi approach it, then?
"Just last week I was asked for the first time about it," said Rabbi Mark Bloom of Oakland's Temple Beth Abraham in a recent interview.
As a Conservative rabbi, he's a proponent of traditional Jewish burial in a Jewish cemetery.
"I really do believe in in-ground burial," he said. "Having a plot to visit is psychologically healthy and in line with what Jewish tradition demands."
Bloom will conduct a Jewish funeral only for cemetery burials, but says he does his best to accommodate families of loved ones who have chosen cremation, honoring the mitzvah of comforting the mourner. He said he would most likely handle human composting the same way.
"I will absolutely do some sort of memorial service," he said.
Bloom can see how the mitzvah of doing good for the Earth would incline someone to choose human composting, but for him, the mitzvah of burying the body is clear and takes precedence.
Landau, who is Modern Orthodox, was very clear on the matter.
"Because of the sanctity of the body, using it as a form of fertilizer, it would be considered disrespectful to the body," he said.
One concern some have with human composting is about how bones that do not break down are handled. According to Katrina Spade, founder of Recompose, one of a handful of human composting funeral homes in Washington, only around 25 percent of bone breaks down during the first 30 days of composting. Then the material is sorted by hand to remove fillings or screws (for instance, material that might have been used in surgery). The larger fragments are ground up with a cremulator, the same equipment used in cremation. The compost rests, or "cures," another week or so.
"At that point there is no recognizable bone," Spade told J. in an email.
Aptos-based Jewish green burial activist HollyBlue Hawkins learned about human composting from Spade.
"When she started talking about it, I started jumping up and down, because this was so cool — but is it kosher?" she asked.
For Hawkins, the answer is a definitive "yes."
"[The body] has fully gone back to the earth," she said. "It has done the 'Adam to adamah' thing."
She says burying cremated remains does nothing for the planet, while returning compost to the earth is an act of environmental pikuach nefesh, saving a life.
"This [technology] is something that belongs to the people and its planet," she said.
Rabbi Sydney Mintz of San Francisco Reform Congregation Emanu-El agrees.
"If someone came to me to get my opinion on human composting, I would say yes!" she told J. in an email. "I believe that Jewish burial laws need to evolve in order to adapt to the seriousness of the planet and climate issues."
Mintz calls herself a "big proponent" of both green burial and human composting.
"I think it's time for a serious change," she said. "All the toxic material that we are embedding into the earth through the 'business' of funerals and burials feels so wrong to me."
Because human composting is a new technology on the funeral scene, Salkin of Sinai Memorial said his staff will be looking more deeply into the actual process and its compatibility with Jewish law before taking a position on it.
"Sinai is actively engaging in learning more about human composting," he said. "We're interested in it as an emerging green approach that may or may not be consistent with Jewish traditional values."
Among the important factors, he said, is how the compost is disposed of and how the body is handled during the process.
"We're going to immerse ourselves in Jewish responsa and questions of, is it permissible from a halachic perspective," he said.
Sinai helps families "facilitate" cremations if they so choose, Salkin said, and would probably provide a similar service for those who choose human composting.
Approximately 65 percent of California residents choose cremation as their final disposition, Salkin said; Marin County has the highest rates in the state at 90 percent. (There is no data on the percentage of Jews who choose cremation vs. burial.)
Human composting is riding on its green credentials, but isn't the process — breaking down to nutrient-rich soil through "natural organic reduction" — what happens after a buried body decomposes?
That's especially true in a "green burial," done without the use of embalming chemicals (which include toxic formaldehyde) and often without a casket. Others choose biodegradable caskets, which are made from unfinished, untreated wood. The body or casket is placed directly into the grave without the concrete boxes, known as burial vaults or liners, that honeycomb the ground in a traditional cemetery. These are used to support the ground under heavy cemetery equipment, and also to keep the swaths of green lawn in cemeteries from sinking unevenly.
Much of what defines green burial is already part of traditional Jewish burial.
There's a move toward "green" Jewish cemeteries, such as Gan Yarok in Mill Valley. And Sinai Memorial recently announced that Gan Adamah, the green section of its Eternal Home Cemetery in Colma, was certified as a "green burial provider" by the national Green Burial Council.
The ecological benefits of human composting and green burial may be similar, but the prices are not. Human composting, at around $7,000, is about half the starting cost of a green burial inside a cemetery.
Ruth Gottstein passed away on Aug. 30 at the age of 100. Because human composting is not yet legal in California, Adam Gottstein arranged to have his mother's body composted in Washington. A nearby funeral home prepared her body for the 12-hour ride, and then Gottstein drove her, with the appropriate papers, to Return Home in Seattle. (Come 2027, both Return Home and Recompose plan to move into the California market once composting becomes legal in the state.)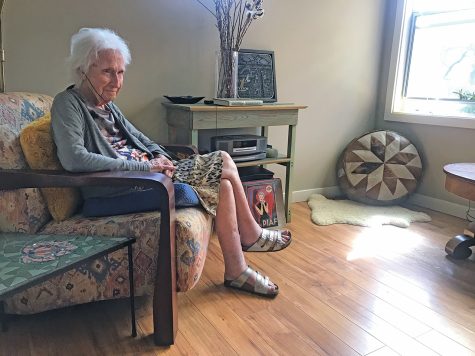 It was a plan that Ruth herself had signed off on, her son said. She had always been ahead of her time: Active early on in the civil rights, gay rights and feminist movements, she also ran her own publishing house and was the daughter of Coit Tower muralist Bernard Zakheim.
It was an easy choice for her son, too.
"As the aging hippie, as the old Sierra Clubber and the environmentalist, I just feel like this is the direction that we should be going," he said.
His mother's remains were returned in several large and small burlap bags. The small ones are going to family and friends who had asked to have "a little bit of Ruth," as Gottstein put it.
The rest has been mixed into soil to feed the trees and plants on Gottstein's lush Northern California property. He said it will be nice to look out at the garden and know something of her is there, still growing and nurturing the earth.
"It does feel like Mom is here," he said. "She feels very present to me that way."