In Senate, Lautenberg maintained commitment to the Jewish community
By Ron Kampeas, JTA
Published June 3, 2013
The Jewish community knew and liked Lautenberg, a data processing magnate who died Monday at 89 after serving more than 30 years in Washington. Lautenberg had been chairman of the United Jewish Appeal in the previous decade and turned the charity around during a parlous economy.
But Jacob Toporek, who managed Lautenberg's Jewish campaign that year, recalls that New Jersey Jews were skeptical of Lautenberg's chances: How likely was this political neophyte to win when the Republicans were on the rise both in the state and nationally?
"We ran an ad in Jewish papers with a picture of him with Golda Meir, with a simple caption: 'Commitment then, commitment now,' " said Toporek, who now directs the New Jersey State Association of Jewish Federations.
The pitch worked, and the Jewish vote helped vault Lautenberg to 30 years in the Senate, where he made good on the implicit promise in the ad, becoming a history-making champion of Soviet Jewry.
"When he became involved in electoral Jewish politics, he didn't forget his Jewish involvement," said Mark Levin, the director of NCSJ, formerly the National Council of Soviet Jewry. "He became one of the leading advocates for Jews in the Soviet Union.
Lautenberg died Monday morning of viral pneumonia, his office said in a statement that outlined an array of far-reaching legislation in which he had a hand. It included laws that kept convicted domestic abusers from owning guns, banned smoking on planes and made 21 the minimum drinking age.
Those who were closest to Lautenberg said the law that had the most meaning for him was the one that bears his name.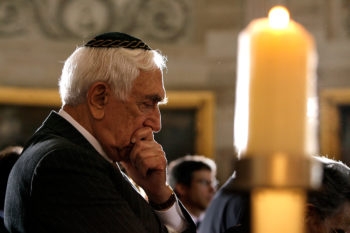 Sen. Frank Lautenberg attending a Holocaust memorial ceremony in the U.S. Capitol Rotunda, May 1, 2008. (Chip Somodevilla/Getty)
 The Lautenberg Amednment, passed in October 1989,  facilitated the emigration of Soviet Jews by relaxing the stringent standards for refugee status, granting immigrant status to those who could show religious persecution in their native lands.
At a tribute in New York to Lautenberg last week hosted by Hillel: The Foundation for Jewish Campus Life, Lautenberg's wife, Bonnie, called the amendment his "proudest achievement." Bonnie Lautenberg accepted the award in his stead because the senator was too ill to attend.
Lautenberg grew up in Paterson, N.J., the son of poor Jewish immigrants from Poland and Russia. He liked to say his parents "could not pass on valuables, but left me a legacy of values," according to a release from his office.
He served in the U.S. Army Signal Corps in World War II and then earned a degree in economics at Columbia University through the G.I. Bill. The role of government in giving a poor kid from Paterson a shot at an Ivy League education undergirded Lautenberg's subsequent commitment to social justice.
He started Automatic Data Processing and built it into the largest data processing firm in the world by 1974, when he became chairman of the United Jewish Appeal. Within a year Lautenberg had increased its charitable intake to the second-highest in its history — an extraordinary accomplishment at a time when the United States was reeling from the energy crisis.
Ron Kampeas
is JTA's Washington bureau chief, responsible for coordinating coverage in the U.S. capital and analyzing political developments that affect the Jewish world. He comes to JTA from The Associated Press, where he worked for more than a decade in its bureaus in Jerusalem, New York, London and, most recently, Washington. He has reported from Northern Ireland, Afghanistan, Bosnia and West Africa. While living in Israel, he also worked for the Jerusalem Post and several Jewish organizations.