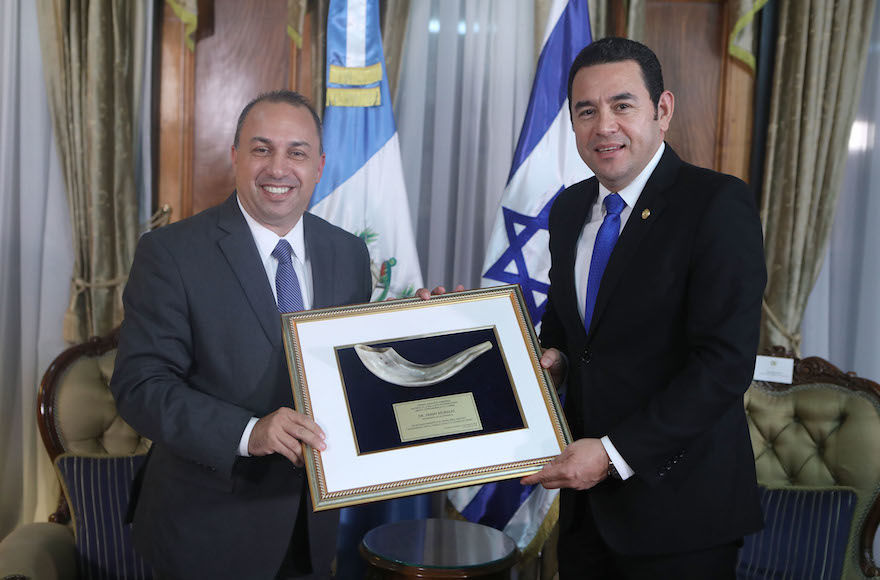 The announcement of the date for the planned move came on Wednesday morning, in a post on Jerusalem Mayor Nir Barkat's Facebook page.
Barkat posted a photo of himself, meeting with Guatemala's ambassador to Israel, Sarah Solis Castaneda, and CEO of the Guatemalan Foreign Ministry Maria Lucia Ramirez. He said that he met with the women to "discuss operations for the transfer of the embassy on 16 May to Jerusalem as per Guatemalan President Jimmy Morales."
Barkat concluded in his post: "I congratulate the president of Guatemala and the government of Guatemala for the brave decision to move the embassy to Jerusalem. I promised them as much as possible to allow a quick transfer of the embassy to Israel's capital. I call for more countries to follow the U.S. and Guatemala and to move their embassy to Jerusalem!"
Morales announced in May during the annual conference of the American Israel Public Affairs Committee in Washington, D.C., that Guatemala would move its embassy to Jerusalem for the second time. Guatemala was among the first nations to recognize Israel after it declared independence in 1948, and was the first country to establish an embassy in Jerusalem in 1959, before subsequently moving it.