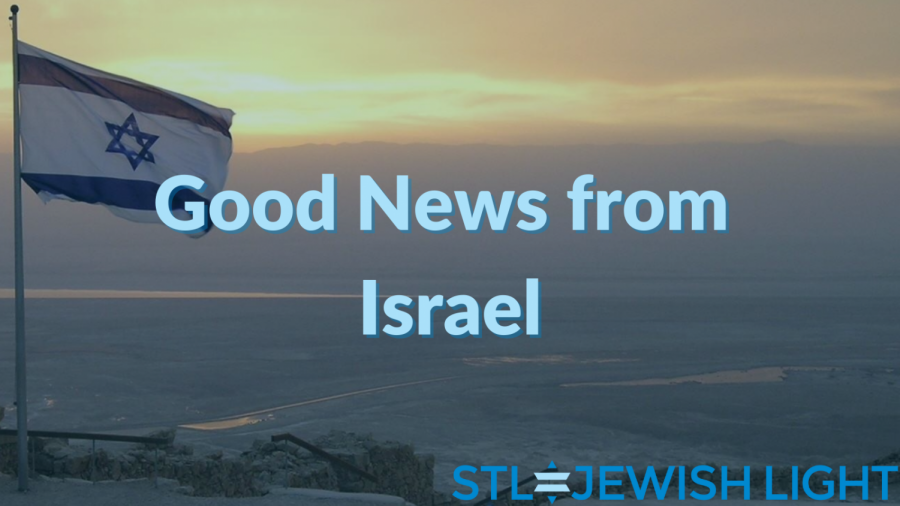 NETANYA, Israel –In the August 4, 2021 edition of Israel's good news, the highlights include: 
An Israeli device enables people without hands to operate electronic devices.
Two Israeli families and one from the UAE exchange kidneys.
Two Israeli airlines have begun scheduled services to Morocco.
Israeli high-school students won 3 golds at Math Olympiad.
At least two more new billion-dollar Israeli startups.
A rare Sumatran orangutan went AWOL before giving birth at an Israeli safari park.
Despite the pandemic, hundreds of new immigrants arrive in Israel.
ISRAEL'S MEDICAL ACHIEVEMENTS
No entry for coronavirus. Israel's Redhill has completed its Phase 2 / 3 clinical trials of its opaganib treatment on 475 coronavirus patients in Israel, Europe and Brazil. In a few weeks it will declare the results. Opaganib works on the patient rather than the virus, preventing the body from allowing the virus to enter the host cells.
https://worldisraelnews.com/israeli-research-a-simple-pill-to-treat-covid-19/
European approval for Covid severity test. Israel's MeMed (see here previously) has received Europe's CE mark for its Covid-19 Severity disease management solution. The 15-min test measures proteins from serum samples and applies machine learning to identify patients likely to suffer a severe form of coronavirus infection.
https://www.calcalistech.com/ctech/articles/0,7340,L-3913362,00.html
Diagnosing cancer in 17 European countries. Unilabs, one of Europe's largest diagnostics companies, is to implement the AI-based cancer diagnostic software from Israel's Ibex Medical Analytics (see here previously). The initial rollout will begin in Sweden and then continue to 16 more European countries.
https://www.timesofisrael.com/swiss-diagnostic-firm-unilabs-to-use-ibex-cancer-detecting-tech-in-labs/
Helping amputees regain hands-on control. Israel's 6degrees has developed MyMove – a personalized motion-based & touch-free wearable, enabling the disabled to gain intuitive control over any smart device. It also helps rehabilitate injured patients, studying movements similar to how a voice-activated device "learns".
https://www.calcalistech.com/ctech/articles/0,7340,L-3913292,00.html   https://www.6degrees.tech/
https://www.youtube.com/watch?v=AbZIVpv9Kp4  https://www.youtube.com/watch?v=Ig60PQdYroY
Mayo Clinic to bring Israeli AI to US surgical rooms. Mayo Clinic is partnering Israeli-founded Theator (see here previously) to bring its artificial intelligence and computer vision technologies to surgical rooms in the US. Theator will support Mayo's urologists and gynecologists with pre-op preparation and post-op debriefing.
https://www.timesofisrael.com/israel-founded-theator-to-work-with-mayo-clinic-to-bring-ai-to-surgical-rooms/
Medical cooperation with UAE. (TY WIN & I24 News) Israel's Sheba Medical Center has signed two agreements with health authorities in Dubai and Abu Dhabi. They cover medical research and medical tourism. Sheba is currently treating 300 UAE diabetics high blood pressure patients both in Israel and with telemedicine.

Six-way kidney transplant includes UAE couple. For the first time an Israeli kidney exchange has included patients in the UAE. Shani at Sheba gave her kidney to a woman in Abu Dhabi whose daughter gave her kidney to a woman in Haifa whose husband donated his kidney to Shani's mother.  Wishing a speedy recovery to all.
https://www.timesofisrael.com/3-women-receive-kidneys-in-israel-uae-organ-exchange-1st-with-arab-state/
https://www.khaleejtimes.com/news/abraham-accords-uae-patient-to-get-a-kidney-from-israeli-woman
The gift of speech. Shambhavi "Sam" Jha's cleft palate and lip her made it hard to breathe, hear and talk, despite operations in her native India. After her father moved to Israel as manager of an Indian Bank, Sam was given life-changing treatment at Israel's Meir hospital and is now studying psychology at Tel Aviv University.
https://www.jpost.com/breaking-news/meir-medical-center-gives-indian-patient-the-gift-of-being-able-to-talk-675147
Israel's global fight against Covid-19. In the past year, United with Israel (UWI) published over 2,000 articles and 60 videos in English, Spanish, French and Portuguese about Israel's activities to combat Covid-19. UWI is a Genesis Foundation "Speak Out for Israel" campaign non-profit organization promoting the truth about Israel.
https://unitedwithisrael.org/report-israels-global-fight-against-covid-19/

ISRAEL IS INCLUSIVE AND GLOBAL
Another female General. (TY Hazel) Brigadier General Yifat Tomer-Yerushalmi was named the IDF's next military advocate general and will be the second female Major General in Israel's history. Defense Minister Gantz hailed her as a "trailblazer," who overhauled status and legal protection for women in the military.
https://www.timesofisrael.com/yifat-tomer-yerushalmi-named-idfs-next-top-lawyer-2nd-female-major-general/
Spend more time with your children. Israel's Foreign Ministry has decided that the Ministry will no longer hold meetings after 3:00p.m. on Tuesdays and Thursdays. The decision is part of an attempt to allow parents to spend more time with their children during the week and develop a better work-life balance.
https://www.israelnationalnews.com/News/News.aspx/310657
Druze town dedicates MDA mobile unit. A new mobile intensive care unit (MICU) was dedicated at a ceremony at the Magen David Adom station in the Israeli Druze town of Julis. The donor, Mounhal Hamoud, is owner of Israel's Merkaza shopping chain and a director at the International Fellowship of Christians and Jews.
https://www.israelnationalnews.com/News/News.aspx/310595
Islamic coffee. The Museum of Islamic Art in Jerusalem has opened a new exhibit "Coffee: East and West." It includes items on Bedouin hospitality, Turkish coffee, coffee's Ethiopian origins, and how the Muslim ban on alcohol made coffeehouses popular. The sophisticated cafe culture of Israel's European Jews is also featured.
https://www.jns.org/east-meets-west-jerusalem-exhibit-displays-coffee-culture-through-the-ages/
First scheduled Israeli flights to Morocco. (TY WIN) Seven months after Israel and Morocco normalized relations, El Al and Israir launched their first direct Tel Aviv-Marrakech commercial flights. El Al decorated its flight lounge with Moroccan flags and carpets. The second video shows the welcome at Marrakech.
https://www.timesofisrael.com/direct-israel-morocco-flights-launched-months-after-ties-normalized/
https://www.youtube.com/watch?v=067ESC-tTLA https://www.youtube.com/watch?v=KHrOStYuY-I
No big shakes. The Iranian basketball coach and at least four of his team shook hands with Israel's Ronen "Neno" Ginzburg, who has coached the Czech national basketball team since 2013. The small but friendly gestures took place before and after the Czech Republic's 84-78 victory against Iran at the Tokyo Olympics.
https://worldisraelnews.com/israeli-and-iranian-coaches-share-olympic-handshake/
Israel rejoins the African Union. For the first time since 2002, Israel has rejoined the African Union after Aleligne Admasu, Israeli Ambassador to Addis Ababa, Ethiopia received observer status.  The African Union, comprising all 55 African countries is the most important organization in the African continent.
https://unitedwithisrael.org/diplomatic-victory-israel-rejoins-african-union/
Rescuers in Germany and Belgium. The "Rescuers Without Borders Israel" delegation has just returned from flood-stricken Germany and Belgium where they helped locate missing people. In one incident in Germany an Arabic-speaking Israeli team member took an injured Syrian woman to hospital because she only spoke Arabic.
https://www.israelnationalnews.com/News/News.aspx/310646
SCIENCE & TECHNOLOGY
Scaling up Quantum computer technology. Canadian-Israeli startup Entangled Networks is developing hardware and software to connect together multiple quantum computers. The aim is to boost the data storage capacity of the computer to practical levels. Quantum computers have huge processing power potential.
https://www.timesofisrael.com/spotlight/israeli-startup-aims-to-be-the-mellanox-of-quantum/
https://www.ourcrowd.com/companies/entangled-networks
The chips are up. Excellent article explaining why Israel is so important to the manufacturers of microchips.  Google, Microsoft, Facebook, Intel and Nvidia are setting up or expanding their Israeli chip design operations, and the global surge in demand for microprocessors is fueling investment into chip-related Israeli startups.
https://www.timesofisrael.com/as-global-demand-for-microchips-surges-tech-giants-go-all-in-on-israel/
Protecting water infrastructure. The SigaGuard system from Israel's SIGA OT Solutions has been selected to strengthen the cyber defenses of Israel's water system. A pilot project was conducted at four regional Israeli water utilities, involving SigaGuard and Israeli Security Operations Center service provider Cysol Networks.
https://www.timesofisrael.com/after-alleged-iranian-cyberattack-israels-water-authority-beefs-up-defenses/
https://www.calcalistech.com/ctech/articles/0,7340,L-3913012,00.html
https://sigasec.com/  https://cysol-networks.com/
Defending trees with intelligence. Israel Talpaz, CEO of Israel's SeeTree (see here previously) retired from Israel's intelligence community and brought the expertise, technologies and capabilities that he learned in the defense world to the world of agriculture. Another example of Israelis beating swords into plowshares.
https://www.jns.org/utilizing-skills-honed-as-intelligence-operatives-these-israelis-are-revolutionizing-agriculture/
Put your retail business online. Israel's Stor.ai allows retailers, such as grocers, to go digital. The coronavirus pandemic has convinced huge numbers of "bricks and mortar" stores that they need an e-commerce presence. Stor.ai has just partnered with Toshiba Global Commerce Solution help retailers transform their businesses.
https://www.calcalistech.com/ctech/articles/0,7340,L-3913078,00.html
https://www.youtube.com/watch?v=LQRAeeeLS_Q   https://stor.ai/
No-battery product monitoring tags. Israel's Wiliot (see here previously) has developed low-cost, self-powered, stamp-sized, Bluetooth-enabled computerized-tags, that can be attached to any product or packaging, to get a sense of its physical and environmental conditions. It is "connecting the physical to the digital".
https://www.timesofisrael.com/wiliot-gets-200-million-led-by-softbank-for-product-tracking-chip-tags/
Three golds at Math Olympiad. Israeli high school students won six medals, including three gold, at the 62nd International Math Olympiad in St. Petersburg, Russia. Israel's national team finished in seventh place, its best ranking to date.
https://www.jns.org/israeli-high-school-students-win-six-medals-three-gold-at-international-math-olympiad/
More no-meat products. Israel's Redifine Meat (see here previously) has announced a menu of new 3D-printed items that are now available to order at select Israeli restaurants and hotels. They include a restaurant-style burger, an artisan sausage, a 'meaty' puff pastry, ground beef, and a lamb kebab.
https://www.calcalistech.com/ctech/articles/0,7340,L-3913404,00.html
Smart greenhouses. Israel's Fermata has developed a successful image analysis and artificial intelligence-based solution for greenhouses to identify and treat diseases and pests as early as possible. It boosts plant growth and saves human monitoring time and effort.
https://www.israel21c.org/ai-for-greenhouses-boosts-ability-to-farm-locally/   https://fermata.tech/
Watch out for breakdowns. Israel's Atera has developed a platform for remote managing and monitoring computer systems. It enables IT support staff to proactively detect and prevent malfunctions that could lead to breakdowns of their systems, causing loss of service to customers. Atera has 7,000+ customers in 90 countries.
https://www.calcalistech.com/ctech/articles/0,7340,L-3913534,00.html   https://www.atera.com/
ECONOMY & BUSINESS
New Israeli ports. Israel's new Gulf Port of Haifa is to begin operations on Sep 1st. Built entirely offshore by Israeli companies Shapir Engineering and Ashtrom, it will handle ships 400 meters long and 62 meters wide that carry 18,000+ containers. Another new Israeli port at Ashdod is set to be completed by end 2021.
https://www.jpost.com/israel-news/israel-set-to-open-massive-new-haifa-port-september-1-674606
Empowering employees for success. Israel's YOOBIC is designed to improve productivity and motivation of a company's front-line (deskless) workers. Its platform is available in 25 languages and used by 200+ companies in 80 countries including Boots, Lancôme, Lacoste, Logitech, Puma and Sanofi.
https://www.calcalistech.com/ctech/articles/0,7340,L-3913088,00.html   https://yoobic.com/

Managing social media. Israel's Oktopost is a fully integrated platform that helps companies use social media to generate leads, acquire customers, and boost revenue from marketing campaigns. Customers include Panasonic, ACI, NICE, Fujitsu and Sisense.  https://www.youtube.com/watch?v=wtGFZnqRgvQ
https://www.calcalistech.com/ctech/articles/0,7340,L-3913081,00.html  https://www.oktopost.com/
Managing PR. Israel's Propel has developed PR software that helps improve the workflow and results of agency and in-house PR professionals. It allows monitoring and analysis of campaigns and is compatible with both Gmail and Outlook. Focusing on the US and UK, its 100+ customers include Google and The Daily Mail.
https://www.calcalistech.com/ctech/articles/0,7340,L-3913310,00.html
https://www.propelmypr.com/   https://www.youtube.com/watch?v=qsiyjUwBW4Y
The ultimate guide to boycotting Israel. (TY I24 News & IsraelUnwired) This new video gives some home truths to the BDS movement.  https://www.youtube.com/watch?v=eDqHWktku9Y
A blockchain Unicorn. Israel's Fireblocks (see here previously) has developed a platform based on blockchain technology for customers to manage their digital assets in a secure wallet. Fireblocks has just raised $310 million to give it a market value of $2 billion and the financial status of a "Unicorn".
https://www.reuters.com/article/fintech-crypto-fireblocks/blockchain-firm-fireblocks-raises-310-million-valuation-at-2-bln-idUSL4N2OZ2PE   https://www.youtube.com/watch?v=7AqiL_dm3Q4
Cybersecurity insurance is worth a billion dollars. Israel's At-Bay (see here previously) uses machine learning and other tech to assess the cybersecurity risk of firms seeking insurance against cyber-attacks. At-Bay has just raised $185 million of funds, giving it a $1.3 billion valuation and the financial status of a "Unicorn".
https://www.timesofisrael.com/cybersecurity-insurance-firm-at-bay-raises-185-million-becomes-latest-unicorn/
Probably a Unicorn. Israel's Wiliot (see above) didn't reveal the value of the company following its latest $200 million funding, but it was estimated at around $1 billion, making it another Israeli "Unicorn".
https://www.calcalistech.com/ctech/articles/0,7340,L-3913431,00.html
Europe's largest investment in Israel. Israel's iAngels Ventures (see here previously) has raised $55.5 million for its first institutional fund for Israeli hi-tech investment. The fund is anchored by $25 million from the European Investment Fund under Horizon 2020, the EU Framework Program for Research and Innovation.
https://www.calcalistech.com/ctech/articles/0,7340,L-3913470,00.html
Investment in Israeli startups: Riskified raised $368 million (IPO) Fireblocks raised $310 million; Wiliot raised $200 million; At-Bay raised $185 million; Outbrain raised $160 million (IPO); ActiveFence raised $80 million; Atera raised $77 million; Coralogix raised $55 million; YOOBIC raised $50 million; Nym Health raised $25 million; Cyolo raised $21 million; Oktopost raised $20 million; Treeverse raised $15 million; Propel raised $1.1 million;
CULTURE, ENTERTAINMENT & SPORT`
Museum sculptures become street art. Tel Aviv Museum of Art's recent "Out of the Cube" exhibit was placed around the city. Some two-dozen artists displayed their "habitat inspired" artworks at sites including Levinsky Market, Bialik Square, Nachalat Binyamin and Park Hayarkon.
https://www.timesofisrael.com/out-of-the-cube-takes-sculptures-out-of-the-museum-and-into-tel-aviv/
Beer festival. Nearly 5,000 visitors attended the 6th annual Desert Beer Festival in Tekoa, a town in Israel's Gush Etzion. They enjoyed beer from 15 Israeli breweries, food from local stalls and music from Israeli band "Teapacks".  https://www.israelnationalnews.com/News/News.aspx/310437
I want to be alone.  Ramat Gan Safari's 12-year-old orangutan Tana decided she wanted a private delivery of her new baby. So, she used new foliage to climb out of her enclosure and up a tall tree nearby. Keepers brought her back and gave her space and time to deliver her rare Sumatran orangutan baby.
https://www.timesofisrael.com/escaped-orangutan-causes-stir-at-ramat-gan-zoo/

Follow Team Israel. Shari Wright-Pilo and David Wiseman have built English language sites on Facebook and Instagram where fans can follow Israel's athletes at the Tokyo Olympics. They also have produced a workout video where the team shows some of the exercises they perform to prepare for their events.
Get Ready To Follow Team Israel For Olympics Coverage From This Pair
Olympics and med school. Israeli swimmer Andi Murez has combined training for the Tokyo Games with her medical studies at Tel Aviv University. Andi became an Israeli citizen in 2014, broke two Israeli records and qualified for the Olympic Games in the 50m freestyle, the 100m freestyle and the 200m freestyle.
https://www.timesofisrael.com/israels-fastest-female-freestyle-swimmer-is-a-medical-student-from-los-angeles/
First Olympic medal. (TY UWI) Avishag Samberg won Israel's first medal of the 2020 / 21 Olympic Games. She took the bronze in the under-49kg Taekwondo event. At 19 years old, she is Israel's youngest Olympic medal winner. Israel has won nine medals at previous Olympics at Judo, windsurfing and kayaks sports events.
https://worldisraelnews.com/avishag-semberg-scores-israels-first-medal-of-tokyo-olympics/

THE JEWISH STATE
What a night. Due to the pandemic, this year's "A Night to Honor Israel" had only 700 physical attendees, although many more watched the live stream. It didn't impede Pastor John Hagee, whose message was "Israel is not a political issue. Israel is a biblical issue. If you believe the Bible, you will support the Jewish people."
https://www.jns.org/a-night-to-honor-israel-turns-out-hundreds-of-fervent-christian-supporters/
Caravan for Democracy. Jewish National Fund-USA's Caravan for Democracy Student Leadership Mission to Israel has brought 40 young non-Jews to Israel to see the country with their own eyes. They explored the country through meetings with political, cultural and communal leaders from different backgrounds and faiths.
https://www.jns.org/caravan-for-democracy-students-share-stories-of-experiences-in-israel/

Arab rescuer rewarded. (TY JNS) A Palestinian Arab man saved the lives of three Jews who were shot by Arab terrorists on a road in Judea and Samaria in 2016. He has just been granted permanent residency in Israel. Interior Minister Ayelet Shaked said: "He who saves one life it's as if he saved the entire world."
https://www.israelhayom.com/2021/07/26/palestinian-who-saved-jewish-family-granted-permanent-residency/
Comfort ye O Jerusalem. (TY Sharon) In the Jewish calendar, the recent three sad weeks are now followed by seven weeks of comfort.  Jerusalem residents are taking the opportunity to enjoy the parks, malls, restaurants, food trucks, beer festival, free music, water fountains and Israeli ice cream.
90-year-old woman has a day at the beach. 90-year-old Miriam had not left her home for five years. EMTs from United Hatzalah were asked to help give her some fresh air.  So, four UH volunteers took Miriam down her stairs in a special chair and drove her to Rishon LeZion beach. She had a lovely day with her granddaughter.
EMTs Help A 90-Year-Old Woman Leave Her Home For The First Time in Five Years

https://savelives5k.com/
A Covid route to the chuppah. When police officer Elior's grandfather Yehuda was taken to Hadassah hospital suffering from Covid-19, his family asked Leah – an X-ray technician and relative of a friend – to watch over him. Leah and Elior married in Dec with Grandpa Yehuda under the chuppah to bless the couple.
https://www.israelhayom.com/2021/07/23/first-comes-covid-then-comes-marriage/
Hundreds move to Israel. 172 Olim (new immigrants) from New York, New Jersey, California, Illinois, Pennsylvania, and Ontario have just landed in Israel on four Nefesh B'Nefesh Group Aliyah Flights. And a record-breaking 87 Olim arrived on one flight from South Africa. (TY Geoff) Welcome home to all of them.
https://www.israelnationalnews.com/News/News.aspx/310815
https://www.sajr.co.za/young-and-old-on-record-breaking-aliyah-flight/
*
Michael Ordman writes a free weekly newsletter containing positive news stories about Israel. www.verygoodnewsisrael.blogspot.com and a searchable archive www.IsraelActive.com For a free subscription, email a request to [email protected]