Five questions for the first woman to chair the Union for Reform Judaism
Ami Eden
Published November 10, 2015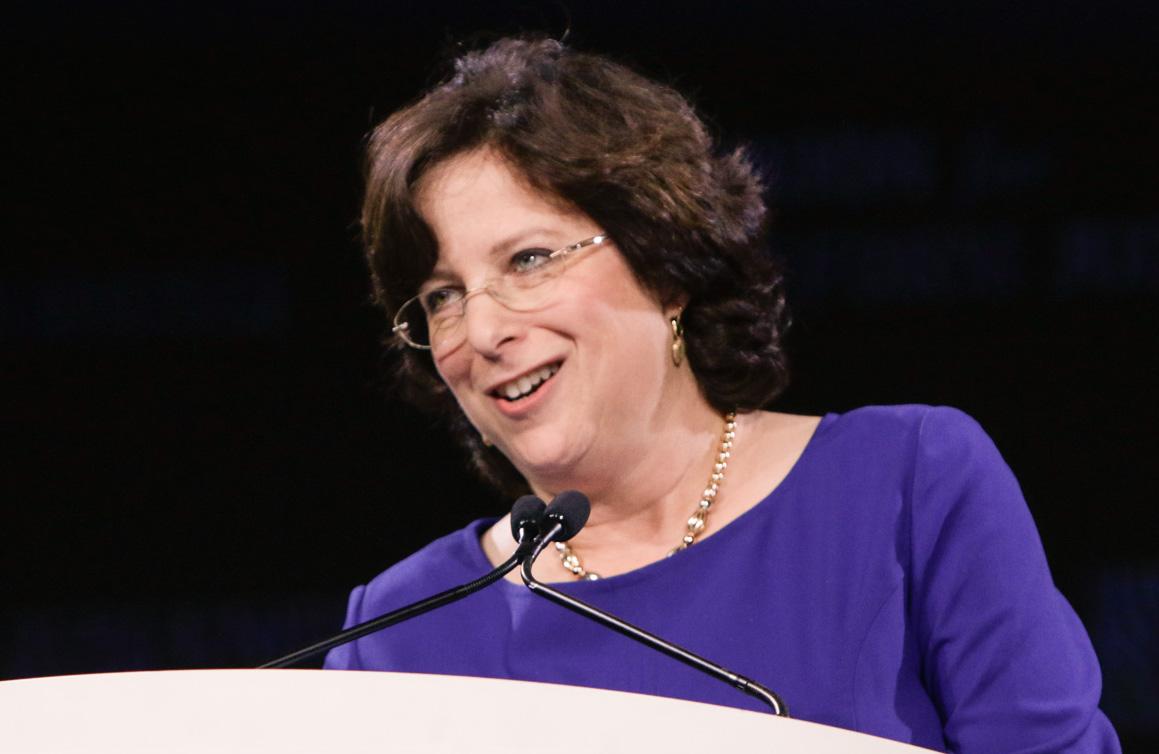 ORLANDO (JTA) — Last week was a big one for Daryl Messinger. A resident of Pao Alto, Calif., and an active board member of several organizations, Messinger was installed as chair of the Union for Reform Judaism, becoming the first woman to hold that post. And she chanted Torah for the first time — in front of 5,000 worshipers at Shabbat morning services. Following the biennial, Messinger answered a few questions via email.
What are your thoughts on becoming the first woman to chair the Union for Reform Judaism? Why do you think it took more than 40 years after the Reform movement ordained the first woman rabbi in America?
Our past chairs have served with distinction and brought substantial experience and commitment to the URJ and the Reform movement. The URJ has always stood for egalitarian, democratic and pluralistic values and advocated for the full participation of women and men in all aspects of leadership and involvement.
Women have trail-blazed from the very beginning in the Reform movement. The Women of Reform Judaism, for instance, started our youth movement — the North American Federation of Temple Youth, or NFTY — and helped to build the original HUC-JIR campus in Cincinnati and URJ headquarters in New York. There are, and have been, women in every lay leadership post and now also the chair. I'm very humbled and proud to be the chair of the URJ.
What goes through your mind when you make your debut chanting from the Torah in front of 5,000 people?
I never chanted Torah before at all — and never read Torah before so many people. I wanted to demonstrate that anyone can do this. I have limited musical ability or musical memory — I think that was evident. Yet, it was important for me to demonstrate that you do not need to be an opera star or the winner of "The Voice" to chant Torah. It's not about being perfect or about being particularly courageous. None of us are. The Torah is there for anyone to read as long as they prepare.
You looked visibly moved when Rabbi Rick Jacobs, the president of the URJ, was giving you a blessing following your Torah reading. What were you thinking?
The power of being blessed in front of the open scroll, in front of 5,000 people, blessed in front of the Torah that was carried on America's Journey for Justice (led by NAACP President and CEO Cornell William Brooks, and joined by 200 Reform rabbis, the Journey for Justice was an historic 860-mile march for voting rights went from Selma, Ala., to Washington) was overwhelming, inspiring and daunting. It was an incredible moment for me to realize the responsibility, trust and love that I have received.
Any major takeaways from your first biennial as chair?
There were many things I knew already about our movement, but that were on full display at this biennial. We are not just the largest and strongest Jewish movement; we are evolving, inclusive and unorthodox. Our leadership bench is incredibly deep and wide. We lead whether it is about equality for people who are transgender or marching for voting rights. We are outspoken about our love of Israel and our belief in a two-state solution.
We hold up our youngest leaders as examples for the entire community. Our NFTY president, Jeremy Cronig, had the courage to give the Kabbalat Shabbat d'var Torah at his very first biennial, enjoining the participants to fight gun violence. The more than 130 workshops inspired more and more people — from children to seniors — to explore what it means to be Jewish, pursue justice around the world and forge stronger ties to Israel.
What makes you most proud to be a Reform Jew and the chair of URJ? What do you feel most needs to change/be improved?
The Reform movement believes that everyone can feel at home in Jewish experiences, that Judaism must meet people where they are today to thrive for tomorrow. We stand for a Judaism that is inclusive and open.
There is much to be done to inspire the next generation; to make our congregations the best that they can be; and to make the world more just. We must act as one movement so that our congregations' leaders see that the URJ, the Hebrew Union College-Jewish Institute of Religion and all our affiliates are integral and can help to make their communities successful.
This entry passed through the Full-Text RSS service – if this is your content and you're reading it on someone else's site, please read the FAQ at fivefilters.org/content-only/faq.php#publishers.