Filipina caregiver gets visa to return to oldest Australian Holocaust survivor
Marcy Oster
Published April 17, 2016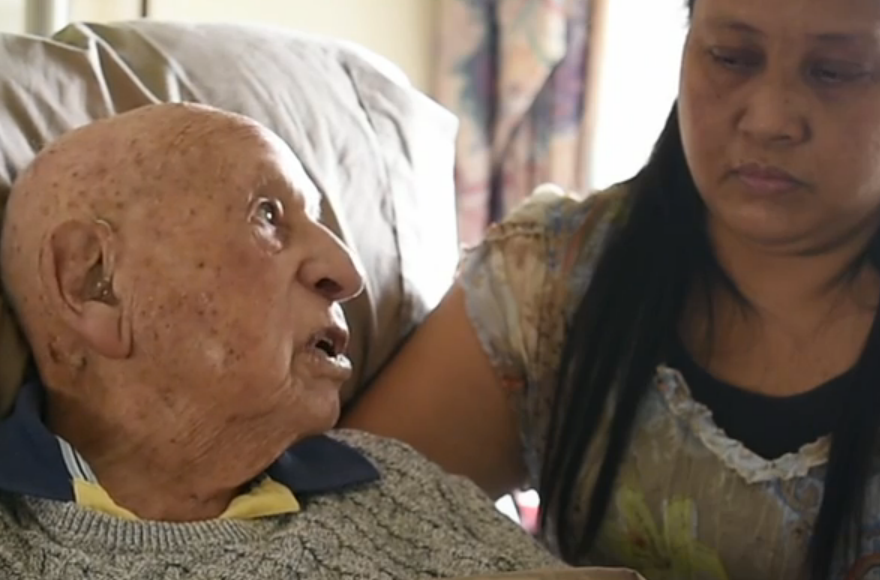 Holocaust survivor Richard Roberts being interviewed recently with his caregiver, Elenita Fernandez, in Sydney, Australian. (Screenshot)
SYDNEY (JTA) — A Philippine woman who has looked after a 103-year-old Holocaust survivor in Sydney for eight years has been granted a special visa which will allow her to return to Australia to continue caring for him.
Lenie Fernandez appealed to the authorities to allow her to leave Australia to return to the Philippines to celebrate her daughter's 18th birthday. Fernandez had been on a tourist visa when she started looking after Richard Roberts in his Vaucluse home in Sydney's eastern suburbs, an undertaking she took on a 24/7 basis. Roberts told JTA: "She ran the house including bringing people in to help some of whom shopped for the household."
But when her daughter pleaded with her to join her for her 18th birthday celebrations, Fernandez was confronted with a massive dilemma. If she left Australia on her existing visa she would not be allowed reentry to continue caring for Richard Roberts. Viennese-born Roberts had been incarcerated in Dachau and Buchenwald before migrating to Australia in 1938.
Roberts' home lies within the electorate of Australian Prime Minister Malcolm Turnbull who wrote a letter on Fernandez's behalf in 2010 when he was in the opposition. He was made aware of the current situation but the word came back that due process would have to be applied and whereas Fernandez could apply for a new visa she would have to wait for up to a year during which she could continue caring for Roberts, but not leave the country.
Support for Fernandez's case was helped by media reports and an online petition.
On Thursday, Fernandez rushed to the Department of Immigration offices in Parramatta, Sydney with her solicitor where she was granted a special visa to allow her to attend her daughter's birthday celebration and return to Sydney. Fernandez has not seen her daughter for nine years. She was Manila-bound the next day.
A family friend told J-Wire, an on-line Jewish newspaper serving Australia and New Zealand, that Roberts was extremely happy but still apprehensive about two weeks without his caregiver.
A spokesperson for Immigration Minister Peter Dutton told JTA: "We can confirm that the visa has been issued but can comment no further."
Before she left, Lenie Fernandez organized two caregivers to look after Richard Roberts in her absence. She will return during the second week of May.