Donald Trump cites Jewish groups in bizarre explanation for not disavowing KKK
Ron Kampeas
Published March 3, 2016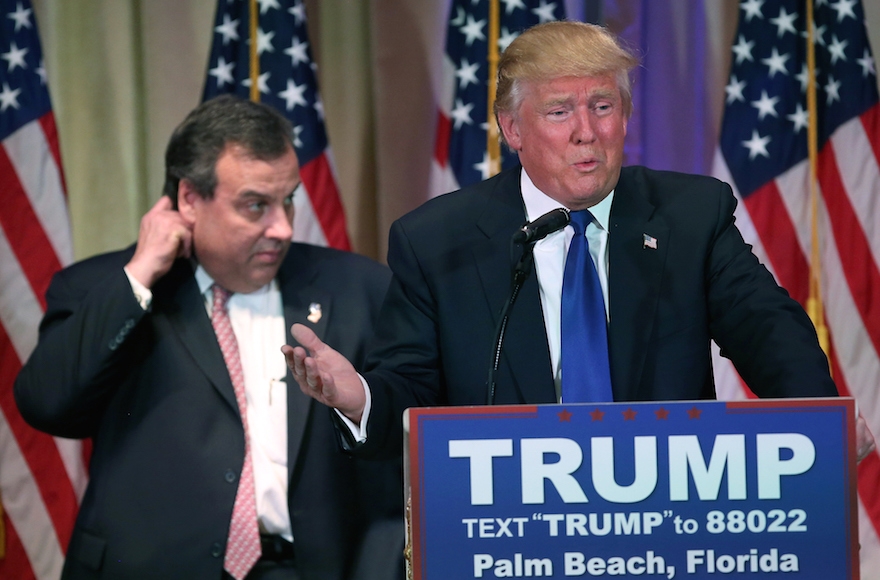 Donald Trump, entering the fifth day of defending himself against the his equivocal response on CNN to an endorsement by David Duke, said the former Ku Klux Klan head was a "bad man."
The characterization Thursday on MSNBC's "Morning Joe" is about as unequivocal as the front-runner for the Republican presidential nomination has been so far in disavowing the white supremacist who expressed support for him.
But Trump had to add a wrinkle. Having previously blamed a faulty earpiece for failing to condemn Duke, he this time said he couldn't just come out and condemn groups generically because — what if they were Jewish?
"And the one question that was asked of me on CNN — he's having a great time — he talked about 'groups of people.' And I don't like to disavow groups if I don't know who they are. I mean, you could have the Federation of Jewish Philanthropies in 'groups,'" he said.
The thing is, though, in the original encounter on CNN Sunday, Trump clearly understood that interviewer Jake Tapper was not referring to just any groups, but to white supremacist groups in particular. How do we know this? Because Trump said so.
"Well just so you understand, I don't know anything about David Duke, okay, I don't know anything about what you're even talking about with white supremacy or white supremacists. So I don't know, I don't know. Did he endorse me, or what's going on, because, you know I know nothing about David Duke, I know nothing about white supremacists. So you're asking me a question that I'm supposed to be talking about people that I know nothing about," he said.
Tapper pushed back, saying, "But I guess the question from the Anti-Defamation League is, even if you don't know about their endorsement, there are these groups and individuals endorsing you. Would you just say, unequivocally, that you condemn them and you don't want their support?"
Trump again demurred. "Well, I have to look at the group. I don't know what group you're talking about. You wouldn't want me to condemn a group that I know nothing about. I'd have to look. If you would send me a list of groups, I will do research on them, and certainly I would disavow if I thought there was something wrong. But you may have groups in there that are totally fine and that would be unfair, so give me a list of the groups and I'll let you know," he said.
Even in the unlikely event Trump had never heard the term "white supremacist,'" "white" coupled with "supremacist" is kind of self-explanatory.
Now, Trump is making it even weirder by suggesting that when Tapper said "white supremacist," the candidate heard "Jewish philanthropy."
This entry passed through the Full-Text RSS service – if this is your content and you're reading it on someone else's site, please read the FAQ at fivefilters.org/content-only/faq.php#publishers.