BDS calls on Argentina's national soccer team to cancel match in Israel
JTA
Published April 8, 2018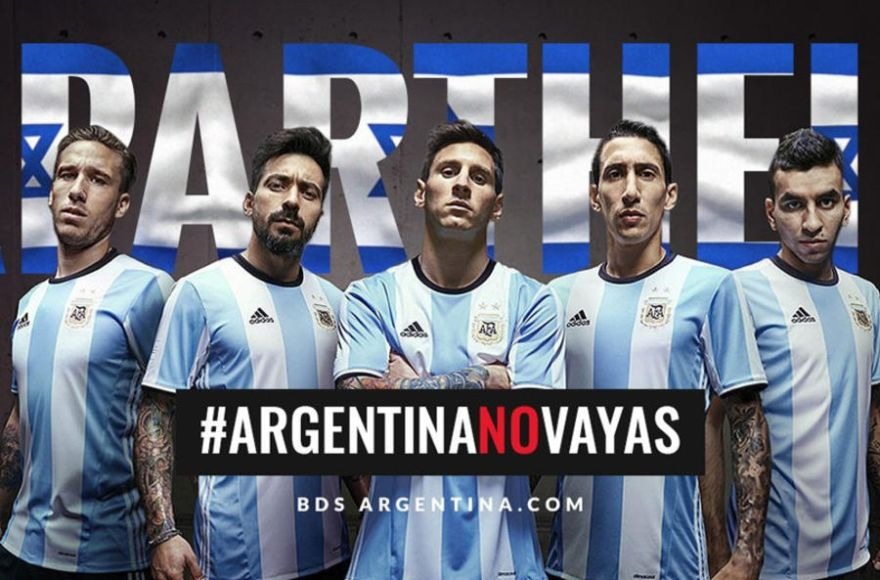 BUENOS AIRES, Argentina (JTA) — A boycott campaign is threatening the friendly soccer match between the national teams of Israel and Argentina.
The boycott campaign sponsored by BDS Argentina is using the motto "Argentina don't go" to Israel, or #ArgentinaNoVayas. BDS stands for the boycott, divestment and sanctions movement against Israel.
Argentina's national soccer team with global soccer star Lionel Messi, who currently is playing for the Spanish team Barcelona, is scheduled to play against Israel in its last friendly match on June 9 in Tel Aviv, just one week before the opening of the World Cup in Russia.
The campaign is getting international exposure, and has been picked up in Spain.
Argentinean National Secretary of Sports and the Argentine Football Association, or AFA, on Friday received a letter signed by the Argentinean Committee of Solidarity with Palestine asking for the cancellation of the soccer match showcasing the national team of Argentina in Tel Aviv against the Israeli squad. The letter said that the cancellation of that friendly match "should represent the solidarity of values ​​of the Argentine people towards other peoples who are victims of oppression, apartheid and genocide."
Playing against Israel and visiting the Western Wall has created success for soccer in Argentina. In 1986, the team played against Israel in the last friendly before that year's World Cup. Argentina won 7-2 in Ramat Gan and then the team led by Diego Maradona won the World Cup in Mexico.
In 1990, again with Carlos Bilardo as a coach and Diego Maradona on the team, Israel played Argentina in the last friendly match of the season. Argentina won 2-1 before the World Cup in Italy that Argentina lost in the final against Germany. In 1994 coach Alfio Basile also choose to play against Israel before  the U.S. World Cup.
"We need to learn from Argentina, we in Israel are doing everything well, except playing soccer," Israeli President Reuven Rivlin said two months ago, when he revealed that he is a big fan of Argentinean soccer stars Diego Maradona and Lionel Messi.
The letter from the Argentinean Committee of Solidarity with Palestine calls the BDS movement a tool to pressure Israel with the objective of changing its "racist policy and violation of human rights," and concluded, saying: "We call on Argentina not to play this game in Israel."
The friendly matches are not under the auspices of the international soccer federation, or FIFA, and are rather an agreement between the two national associations, meaning it is easy for one side to decide to cancel the match.