AEPi house at Northwestern under investigation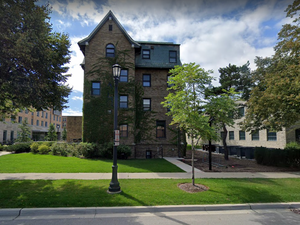 Louis Keene, Forward
Published September 28, 2021
Alpha Epsilon Pi at Northwestern University is under investigation after several people said they were drugged at the fraternity house without their consent.
An email from the university sent to students and faculty Friday said it had received multiple reports of drugging after a gathering on campus at 584 Lincoln St. in Evanston, which is the address of the school's AEPi chapter. AEPi's national mission statement bills itself as "the world's Jewish fraternity."
On Saturday, after receiving a separate allegation of drugging without consent at nearby Sigma Alpha Epsilon, a non-Jewish house, the school suspended all Greek Life social activities effective immediately.
Drugging without consent constitutes aggravated assault in Illinois.
"The University is investigating this report and continues to investigate separate, similar reports it received on Sept. 24," read Saturday's campus-wide email, which was signed by dean of students Mona E. Dugo and the school's chief of police.
The school did not state whether members of AEPi were accused nor when the gathering at the house occurred. It also did not state whether local police were separately investigating the allegation.
Northwestern, which is based in Evanston, just north of Chicago, is perennially ranked among the country's top 10 universities and has long drawn a large population of Jewish students. According to Hillel.org, which compiles data on Jewish student enrollment at American universities, there are about 1,200 Jewish undergraduate students at Northwestern this year, about 14% of the student body.
AEPi, which was founded at New York University in 1913 by 11 Jewish students, now has 170 chapters at universities around the world, according to the website of its headquarters. And while the organization and its chapters are open to non-Jewish members, the national website's banner says it is "Developing Leadership for the Jewish Community."
Its chapters have been the site of several sexual assault accusations in the last five years, including a rape allegation that involved unwanted drugging at the College of Charleston in 2016, and 12 separate rape allegations at the University of St. Andrews in 2020.
This article originally appeared at forward.com. Reposted with permission.