4 more boys charged in school bus arson outside Brooklyn yeshiva
Julie Wiener
Published May 13, 2016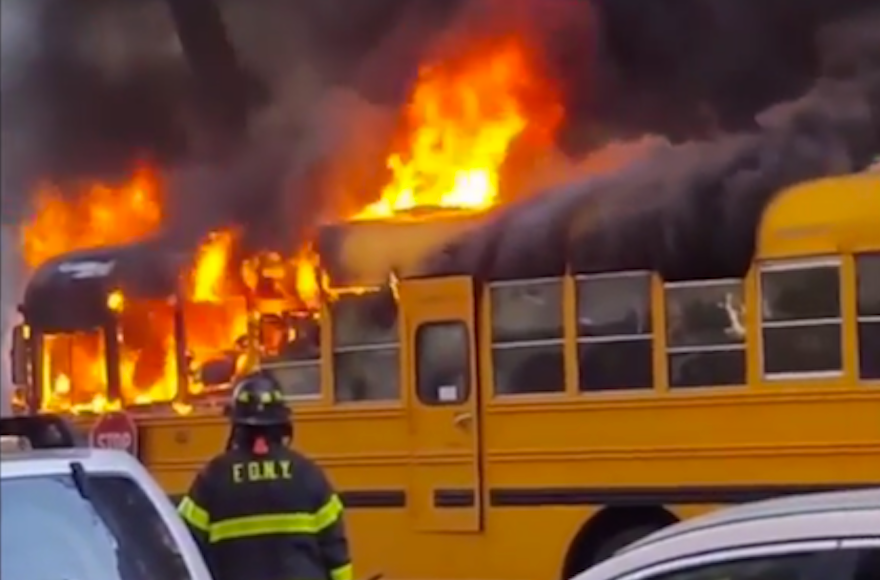 A school bus outside a Jewish school burning in the Crown Heights area of Brooklyn, New York, May 8, 2016. (Screenshot from YouTube)
(JTA) — Four more boys have been charged for allegedly setting ablaze a school bus parked outside a Brooklyn yeshiva.
The hate crimes charges in Sunday's arson were announced Thursday night, the New York Daily News reported, a few days after the first of five alleged arsonists was charged and after police released surveillance video that appears to capture the crime.
Two of the boys facing charges are 11 years old, one is 12 and two are 14. All the boys in the video appear to be African-American.
The boys carried cardboard pieces onto the unlocked bus parked outside the Beth Rivkah School for Girls in Crown Heights early Sunday evening, then set them on fire, according to police. No one was injured in the fire, but several prayer books and other items were destroyed.
Beth Rivkah is a Chabad school. Crown Heights, a racially mixed and gentrifying neighborhood, is home to Chabad's world headquarters. In 1991, the neighborhood was rocked by days of rioting after an African-American boy was accidentally struck and killed by a car in the Chabad rebbe's motorcade.